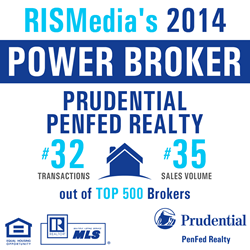 We are extremely proud of our award winning sales professionals. They provide dedicated service and expert representation to each and every client.
Washington, D.C. (PRWEB) May 22, 2014
PenFed Realty celebrated a successful 2013 at their Annual Awards Ceremony, held on April 23, 2014. Earlier this year PenFed Realty was presented with the Gibraltar award, ranking #9 out of over 500 companies, at the Prudential Real Estate and Berkshire Hathaway HomeServices Network Convention in Nashville, Tenn. This is the second year in a row that PenFed Realty was presented with this award at #9.
In addition to the national recognition received from its network, Prudential PenFed Realty was also ranked highly in RISMedia's 2014 Power Broker Top 500 Report. PenFed Realty ranked #32 in transactions and #35 in sales volume throughout the nation.
Shashi Vohra, PenFed's executive vice president & president of affiliates businesses, had this to say of the event, "Our agents are the greatest assets for the company. They contribute to the success and growth of Prudential PenFed Realty. Kevin Wiles our president of the mid-Atlantic region did an excellent job in recognizing their efforts."
These awards, however, are not the culmination of Prudential PenFed Realty's efforts. They are rather, as members of the company's upper management made clear, only the beginning of a continued effort within the company towards continued forward momentum.
"We are extremely proud of our award winning sales professionals. They provide dedicated service and expert representation to each and every client," said Wiles. "The resulting consumer satisfaction is what has allowed Prudential PenFed Realty to become one of the fastest growing real estate firms in the nation."
PenFed Realty's Annual Awards Ceremony also acknowledged the numerous awards that its Business Development Division was presented at the 2013 Brookfield GRS Forum.

2013 Brookfield Forum Spirit of Partnership
2013 Brookfield Forum 1st Place – Relocation Inventory
2013 Brookfield North American Performance Award Destination Services
"These three outstanding awards are a testament to the broad spectrum of talent and success of our team members," said Hellen Valle, CRP, vice president of Business Development at Prudential PenFed Realty.
The Business Development Division was also recognized by the WHRGroup Employee Relocation for continuously exceeding WHR service standards, and was presented with its 2013 Partner in Quality award.
For more information about PenFed Realty, visit http://www.penfedrealty.com.
About PenFed Realty
PenFed Realty, wholly owned by PenFed (Pentagon Federal Credit Union), is a full-service real estate company with an annual sales volume over $2.8 billion; serving PenFed members as well as the general public. Recognized as a leading real estate company in its service area, it is ranked among the top 25 Prudential affiliates nationwide. Over 1,700 top-notch sales professionals work out of PenFed Realty's 50+ offices to provide complete real estate services nationwide.
Prudential PenFed Realty is an affiliate of the Brookfield/Home Service Franchise (Formerly Prudential Real Estate) Residential Property Services network. Its franchises are independently owned and operated. The network provides franchises with numerous benefits, including access to Prudential Real Estate's Online Seller Advantage® program designed to provide real-time information to sellers in an easy to use system; and Online Buyer Advantage®, enabling consumers to easily search for property in all 50 states and the District of Columbia. Prudential Real Estate is one of the largest real estate brokerage franchise networks in North America, with $109.3 billion in sales volume (USD), 389,000 open transaction sides, nearly 1,400 offices, and 47,000 sales professionals in the franchise Network as of December 31, 2012.
© 2014 BRER Affiliates LLC. An independently owned and operated broker member of BRER Affiliates LLC. Prudential, the Prudential logo and the Rock symbol are registered service marks of Prudential Financial, Inc. and its related entities, registered in many jurisdictions worldwide. Used under license with no other affiliation with Prudential. Equal Housing Opportunity. We are proud to be an equal opportunity employer: m/f/v/d.