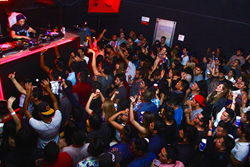 After completely reengineering its sound system with Powersoft power amplifiers earlier this year, Hardpop has emerged from a local favorite to an internationally recognized hotspot for the EDM genre.
Ciudad Juárez, Mexico (PRWEB) September 08, 2015
A roundup of the world's top nightclubs generally reads like a roll call of Europe's ritziest cities, with an obligatory nod to U.S. cities like New York and Los Angeles. Yet nestled in an unassuming strip mall in Ciudad Juárez, Mexico is Hardpop, an electronic dance music oasis with one of the most enthusiastic club-going audiences anywhere – and an equally impressive sound system. After completely re-engineering its sound system with Powersoft power amplifiers earlier this year, Hardpop has emerged from a local favorite to an internationally recognized hotspot for the EDM genre.
Big Dreams
Since founding the club in 2005, owner Ricardo Tejada grew Hardpop into a lynchpin of the community, but his aspirations did not end there. He wanted Hardpop to bring the world's top DJs to the people of Ciudad Juárez. "When he started contacting big names about coming to Juárez, a common response was, 'Look, you're going to have to do something really special with your sound system to get us to make the trip." That's when he reached out to installed sound expert Bill Weir, who knew it would take the unrivaled performance and quality of Powersoft power amplifiers to make Ciudad Juárez a true dance epicenter in the western hemisphere.
Weir knew that Hardpop's new sound system would have to meet the frequency range demands of contemporary electronica. "Modern dance music has bottom end that simply did not exist a decade ago," Weir says. "We're being asked to make well-controlled trips into that sub-bass frequency range while maintaining 18 dB of headroom on top of that." According to Weir, Powersoft was the only manufacturer that could deliver the needed headroom with sufficient clarity and intelligibility across all frequencies.
Tejada, who considers himself an audiophile, was immediately onboard for an all-Powersoft overhaul. "He had just returned from Europe and had heard Powersoft in clubs over there. He realized there was a certain harshness with Hardpop's old system that simply didn't exist in the Powersoft-driven systems," Weir recalls. "Because of its challenging location, Hardpop needed more than just acceptable sound quality. We have to try harder and do more than your average European club. On the amplification side, we needed Powersoft to achieve this."
A Fully Re-imagined Sound System
Quality audio performance aside, there was another compelling reason why a Powersoft solution fit like a glove: power upgrades for the building were not an option. Therefore the installation team had to ascertain more output from their sound system with the same current draw. "Powersoft allowed us to go from 47% efficient to 96% efficient, so we were able to shoehorn another 20 kW without any power system upgrades, which is unbelievable," Weir explains.
The fully re-imagined sound system includes a K8 amplifier for the front subwoofers, a pair of M30D amplifiers for rear subwoofers and four K2 amplifiers for the main speaker cabinets. Additionally an M28Q amplifier powers the stage monitors, with an M50Q amplifier powering the monitor subs. There is also a Powersoft M28Q amplifier, which drives zone fills. Once the installation was complete, Weir made ample use of Powersoft's Armonía software to balance the room with equalization. "There's no one with better EQ algorithms than Powersoft, and having outboard EQ feels almost unnecessary now," he says.
Power to the People — and the Artists
The crowds responded immediately to the Powersoft overhaul, and Weir is proud that the system not only pushes high sound levels, yet respects its listeners' ears. "This isn't like a bar where people are going to be there for two hours, drink, and then hop to the next place to see the next act," Weir explains. "People get there at 9:00 p.m. and they stay there for 6 to 8 hours sometimes. For that length of time, you've got to be careful of peoples' hearing, and I can achieve a level of subtlety and finesse with Powersoft that I can't get with any other brand." The Powersoft gear's minuscule physical footprint also leaves plenty of space for the dance floor. "We've got almost 70 kW RMS in that system and it's all in an 18-space rack with some blanks to spare," Weir adds.
The word is out to artists. Hardpop has hosted renowned DJs such as James Lavelle, Magda, Damian Lazarus, and Deadmau5. "We have Sasha coming through in a few weeks," Weir notes. "A lot of artists now know about the place because of the level of the sound system." But Weir says the attention Hardpop's sound system is getting from artists is about more than simple brand-name recognition. "They know that by having Powersoft behind them, they will be able to make the crowd. Some of the DJs have told us the monitors sound so good they can get a little distracted up there just listening!" says Weir, laughing.
Hope, Sounding Off
Dancing to the pounding rhythms of EDM has proven to be the perfect release for a city that has had more than its share of troubles in recent years. "When people come out to party on a Saturday night in Ciudad Juárez, it's different than you and I might experience stateside. The energy is escalated to a whole new level." Weir believes that the venue has encouraged the local population feel more hopeful about the future. "Hardpop has really helped unify and heal Juárez," he concludes. And the DJs who make the trip cannot help but feed off of the positive vibes. "The combination of the sound system, the venue and the crowd is a totally unique experience," says Weir. "And Powersoft is literally at the center of it."
About Powersoft:
Powersoft is the world leader in lightweight, high power, single rack space, energy efficient amplifiers for the professional audio market. Founded in Italy in 1995, headquartered in Florence, Italy, with offices in Ventura, CA, Powersoft couples the experience and precision of its production department with exceptional components to deliver products with perfect audio response and high performance reliability. Its state-of-the-art amplifiers can be found in an array of markets, ranging from stadiums, sporting arenas, theme parks, performance venues and airports to convention centers, churches and clubs, and are used by the world's leading tour sound companies. For more information, visit the Powersoft website @ http://www.powersoft-audio.com