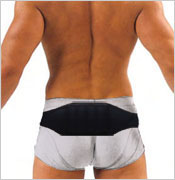 The users of therapeutic Dr. Allen's Device are able to recover from chronic prostatitis and BPH naturally.
London, GB (PRWEB) August 17, 2014
Urologists have been instructed to perform prostate screening in every man over the age of 40, even when there is no sign of a problem. The process of screening causes discomfort, psychological pressure, risk of infection, and other complications. Recent reports have raised concerns over the PSA test and regular prostate screening, as they lead to a high risk of over-diagnosis and over-treatment. Fine Treatment recommends using Dr. Allen's Device for Prostate Care that helps to dramatically ease disturbing signs of prostate diseases, including pelvic pain linked to chronic prostatitis and lower urinary tract symptoms (LUTS) associated with enlarged prostate (BPH).
'Screen to see if you're fine' article of August 12, 2014 in the Pune Mirror says, "Not all prostate enlargements are cancerous and benign enlargement of the prostate is more common. The process of enlargement begins in the 30s and by 80, up to 85% of men have benign prostatic enlargement. The enlargement of the gland may induce frequent urination, especially at night, a feeling of incomplete release or leakage."
If a man experiences LUTS or pelvic pain, there is no necessity for a routine prostate screening. A WebMD article on 'Prostate cancer screening: long-term results' dated August 7, 2014 highlights an important matter: "There have been many studies looking at whether the benefits of PSA testing outweigh the chances of being harmed by over-diagnosis and over-treatment."
For many years we have known that a blood test for raised levels of a substance called prostate specific antigen (PSA) can help doctors diagnose men with prostate cancer. But there are two main problems with the PSA test. Firstly, it is not very accurate. Secondly, it spots many low-risk prostate cancers that don't grow or cause any problems during the man's lifetime. This is known as over-diagnosis. This means more men have prostate cancer treatment than actually need it. This is known as over-treatment. Prostate cancer treatments can cause erection problems and bladder problems.
In many cases, the treatment of chronic prostatitis and BPH with antibiotics, medications and surgeries can now be replaced with Thermobalancing therapy. Recorded by the Oxford Innovation Centre, this video demonstrates how the therapeutic Dr. Allen's Device has helped men to recover from chronic prostatitis and CPPS, http://www.youtube.com/watch?v=Sx1xfwwA5KI.
"Men with a prostate problem should try the side-effects-free Thermobalancing therapy in the first place," comments Dr. Simon Allen. "At Fine Treatment, we work with customers around the globe, and are pleased with their highly positive treatment results and feedback. The users of therapeutic Dr. Allen's Device are able to recover from chronic prostatitis and BPH naturally."
For details, visit Fine Treatment at http://finetreatment.com/chronic-prostatitis-cpps-treatment/.
About Dr. Simon Allen and Fine Treatment:
Dr. Simon Allen, MD, PhD, Academician, member of the ATA, is a highly experienced medical professional specialising in internal medicine. He has treated a wide range of chronic diseases, including patients after a heart attack, with kidneys problems, including kidney stones disease, prostate and spine conditions, as well as metabolic disorders.
Fine Treatment exclusively offers Dr. Allen's Devices for chronic prostatitis and BPH treatment, coronary heart disease, for dissolving kidney stones, easing chronic headaches, and relieving upper spine tension, lower back pain and sciatica.