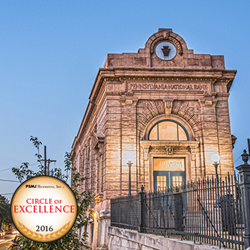 "PSMJ's Circle of Excellence is designed to highlight firms that are successfully managed and demonstrate outstanding achievements in profitability, overhead management, cash flow, productivity, business development, staff growth, and turnover."
Pittsburgh, PA (PRWEB) July 28, 2016
Desmone Architects, a Pittsburgh based Architecture and Interior Design firm with a branch office in Morgantown, has been named into this year's Circle of Excellence among 64 of the nation's top firms. For more than 40 years, PSMJ Resources, Inc. has been recognized as the world's leading authority, publisher, and consultant on the effective management of architecture, engineering, and construction firms.
PSMJ's Circle of Excellence is designed to highlight firms that are successfully managed and demonstrate outstanding achievements in profitability, overhead management, cash flow, productivity, business development, staff growth, and turnover, etc. The Circle of Excellence represents the top 20% of participants in PSMJ's annual A/E Financial Performance Benchmark Survey, based on 13 key performance metrics.
"Year after year, the diversity of these firms continues to prove that success isn't necessarily defined by the size of a firm, their practice area, geographic location, or even the markets they serve, but instead by a strong commitment to solid business practices," says Kate Allen, P.E., Director of PSMJ's A/E/C Industry Surveys. "Our passion may be our practice, but top-notch business practices are critical for sustainability."
Based on results from the 13 key performance indicators, Desmone Architects has experienced nearly a 50% gross revenue change from 2014 to 2015. Accordingly, their staff size has grown 40% to accommodate the growth both in Pittsburgh and Morgantown.
About Desmone Architects: Desmone Architects is a full-service architecture and interior design firm with a practice deeply rooted in design excellence and superior client service. For nearly six decades, their work has shaped the Pittsburgh region and beyond.
With offices in Pittsburgh and Morgantown, their team of 38 employees is comprised of architects, interior designers, LEED accredited professionals, marketing and administrative personnel. Their broad portfolio encompasses everything from single family residences to complex commercial and industrial projects, and includes new construction, renovations, historic preservation and adaptive reuse.
Visit their website at http://www.desmone.com