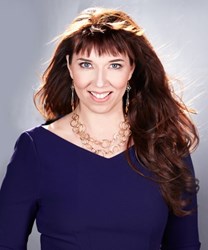 The Pew Research Center estimates 15 percent of Americans have visited a psychic for advice.
Phoenix, AZ (PRWEB) November 04, 2013
Psychic services have become a financial force during the recent economic downturn when many facing uncertain futures have turned to psychic Andrrea Hess, featured this week in the Wall Street Journal popular online MarketWatch section.
The Pew Research Center estimates 15 percent of Americans have visited a psychic for advice, and studies show the intuitive profession is on the rise following the economic downturn. Hess, known for her psychic and economic predictions, said, "With more people leaving the workforce to pursue their own businesses and with increasing competition among entrepreneurs, more clients are seeking me out to gain an edge."
Cheryl Heppard, marketing strategist and consultant of FrontStreet PR, made the announcement. Hess is a client of Heppard who is a successful business consultant leading other business owners out of the receding recession to compete in today's growing entrepreneurial environment.
The Psychic Services Industry grew at an average annual rate of 2 percent to an estimated $2.1 billion in the five years leading up to 2012, according to independent industry research firm IBISWorld. With greater pressing financial and career concerns, a rising share of consumers turned to psychic services for guidance during the recession.
Hess reports an extraordinary growth in her own business, with income rising from $250,000 in 2011 to more than $750,000 in 2012. She said one of her goals is guiding others "on the journey to greater financial abundance."
Many of her clients are other psychics who have seen similar growth in their own businesses. A.J. McClary of ajmcclary.com quadrupled his rates since working with Psychic Andrrea Hess and has been a quintupling his income since last year.
"Andrrea knows exactly what will work and what won't work. She's right every time. Working with her has been so valuable, because her insight has helped me become profitable," McClary said.
Hess, also a speaker, frequent television guest and author who began her career as an opera singer, features her program, "The Money Attraction Method" on her website EmpoweredSoul.com.
In response to the growing popularity and legitimacy of the psychic profession, her professional intuitive development classes have also seen a 500 percent increase in enrollment over the last two years.