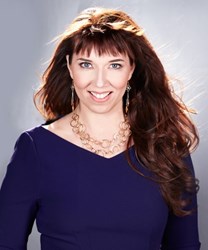 My psychic services income tripled in 2012, from the $250,000 revenue I generated in 2011, to $750,000...
Phoenix, AZ. (PRWEB) November 05, 2013
15% of Americans rely on a psychic for personal, romantic, and business advice reported the recent Pew Research Center study. "Clients call me their edge in these uncertain economic times," the psychic Andrrea Hess explains, "Supporting the Pew Research data that the study revealed showing intuitive professionals are being relied upon more and more by business professionals."
"Given the current economic conditions it is understandable that more people are seeking the help of trained psychics to provide the information necessary to remain successful during these uncertain economic times," the nationally acclaimed Psychic Andrrea Hess replies. "You lower the risk when you have more information before making a business decision, and that is the main reason that so many business professionals and entrepreneurs are seeking psychic services."
"I have helped psychics, healers, transformational experts, coaches, and other people in the intuitive and healing arts professions make a lot of money doing what they love, all while making a lasting positive impact upon the world," Andrrea Hess says. "That is the reason I published 'The Money Attraction Method' report which can easily be accessed at EmpoweredSoul.com. The report can help you create a fabulous income by doing exactly what you Love to Do!"
"Since the recent Wall Street Journal Market Watch publication revealed my economic predictions business service, requests for readings by entrepreneurs and business owners have skyrocketed," the internationally sought after psychic Andrrea Hess reveals. "The main reason for the high demand for business psychic help, is because within a reading we can pinpoint very quickly how you can create financial abundance in a way that is truly authentic to you,." Andrrea adds.
IBISWorld reported in an independent study that psychic services were a $2.1 billion industry in 2012, and quickly growing. "My psychic services income tripled in 2012, from the $250,000 revenue I generated in 2011, to $750,000 of revenue my psychic services generated in 2012," Andrrea Hess announces. "The amazing thing is I am able to guide others along this amazing path to greater financial abundance."