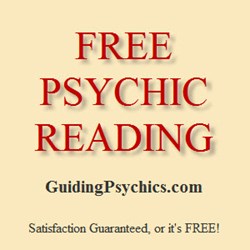 Knowledge is power, and live psychic readings from our gifted psychics give you the insights, self-knowledge, and forecasts you need to plan for success and achieve happiness
Los Angeles, CA (PRWEB) December 12, 2013
GuidingPsychics.com, a website that helps people find the best possible psychic reading offers, has just announced that it is now featuring an exclusive deal from Psychic Source: a free psychic reading to those who visit GuidingPsychics.com. The complimentary reading will last for 5 minutes and is good for any psychic in the Psychic Source network.
Because the Psychic Source network charges up to $6.95 per minute for readings with their top psychics, the free reading is worth up to $34.75. To take advantage of the new offer, people simply need to call 1-855-247-5420 and enter in the code 22933.
For centuries, people have consulted with psychics about a variety of personal problems, dreams and goals, and to learn what their future might be like. From a young man who wants to know when he might find true love to an older woman who is trying to decide whether or not to change careers, psychics have offered guidance to many people. Although many would like to consult with a psychic, it can be confusing at times to know who to contact and which psychic readings are the best, most accurate and priced the most fairly.
This is where GuidingPsychics.com can help. For the past 20 years, the website has offered the best psychic readings possible. The site's thorough screening process helps to ensure that all of the live psychics are truly gifted and experienced professionals who want to help others.
"Knowledge is power, and live psychic readings from our gifted psychics give you the insights, self-knowledge, and forecasts you need to plan for success and achieve happiness," an article on the GuidingPsychics.com website noted, adding that psychics are available all day, every day through either a phone call or online chat.
"Our Advisors are but a phone call or a few keystrokes away. Talk or discretely chat from the privacy of your home or office, at a time most convenient for you."
Anybody who would like to learn more about GuidingPsychics.com and get their free psychic reading is welcome to visit the website at any time; there, they can read about why and how a live psychic reading is an outstanding way to ask questions, get answers, and much more. The site also features testimonials from several people who were extremely pleased with their psychic reading.
"I truly appreciated your quick prediction as well... that you do see us reuniting, and we will 'just know that it is right.' This meant the world to me," Corina wrote in her review.
About GuidingPsychics.com:
GuidingPsychics.com is a psychic deals website that is dedicated to finding the best psychic reading offers. Their exclusive industry connections allow them to provide outstanding deals not offered to the general public. The site has helped thousands of people find amazing deals on psychics and psychic readings. For more information, please visit http://www.GuidingPsychics.com