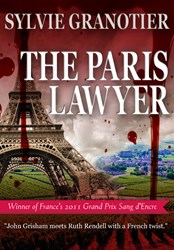 A book is a book is a book.
New York, New York (PRWEB) August 20, 2013
Le French Book, which specializes in translating and publishing top-selling mysteries and thrillers from France, is a digital-first publisher. For its founder Anne Trager, the recent explosion in e-reader and tablet ownership provides a perfect medium to introduce readers to great French authors that haven't previously been translated.
From the beginning, the company has emphasized the "first" in "digital-first." For Le French Book, there is no paper versus digital war: both formats are complementary and serve different (and sometimes even the same) readers. Fabrice Neuman, co-founder and CTO, says, "Our goal is to expand a book's reach, not choose between different formats. A book is a book is a book, whatever form and shape it can take. We don't want to segregate readers. We want to provide everyone with entertaining reads."
True to its word, Le French Book's secured print rights to the first title it released, which is already out as an ebook: The Paris Lawyer by Sylvie Granotier. This gripping psychological thriller navigates between the sophisticated corridors of the Paris courts and a small backwater in central France, where rolling hills and quiet country life hide dark secrets. The main character is a rookie French lawyer who in the midst of investigating her first big case uncovers secrets about her mother's disappearance many years before.
"It's a great book to experience France with both suspense and mystery and it's a meditation on the nature of love and whether we can ever escape the past and reinvent ourselves. This gives it a universal quality," Anne Trager says. "It's been well received as an e-book and our goal is to get it into the hands of more readers." The e-book is currently available on all major e-book platforms and for libraries through Overdrive.
For author Sylvie Granotier, "the more personal a story is and the more it comes from intimate emotions and feelings, the more it will touch people who are farthest from the author. When a crime fiction novel is genuine, then the more exotic it is, the more people like it everywhere. Today, there is phenomenal diversity in European crime fiction, which is appreciated because it is different."
Praise for The Paris Lawyer

"A fast, intriguing read." —RT Book Reviews
"Beautifully written and elegantly structured" —EdgarAward-winning novelist Thomas H. Cook
"Full of surprises and twists that will keep you reading late into the night."—Cosmopolitan
"A suspense novel with an absolutely perfect atmosphere. The writing is subtle, racy, controlled. It is written with great art!" —RTL.be
"Everything in this book—the plot, the atmosphere, the characters, and the style—is perfectly mastered from beginning to end." —L'Echo
About Le French Book
Le French Book (http://www.lefrenchbook.com) is a New York-based digital-first publisher that brings France's best crime fiction, thrillers, novels, short stories, and non-fiction to new readers across the English-speaking world. Its motto is: "If we love it, we'll translate it."
©2013 Le French Book, Inc. All rights reserved. Information is subject to change without notice.