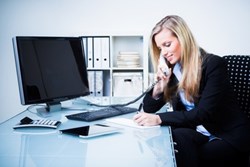 Services provided more than once and unusual events beyond what might be typically expected can also require modifiers.
Denville, NJ (PRWEB) November 21, 2013
"Modifiers can be used for various reasons," said Chhoda. "People in medical billing and coding should employ modifiers to ICD codes when more than one medical provider is involved, a service or procedure changes from the original, or when a procedure encompasses a professional and medical element. They provide supporting data for payers and allow practitioners to be paid for the full extent of their services."
Modifiers are used whenever a service, treatment or procedure is modified or altered from its original description. There are some situations when it's appropriate to use a modifier, such as when only part of a procedure was performed. Services provided more than once and unusual events beyond what might be typically expected can also require modifiers.
Chhoda added that modifiers provide billers with the means to bill more specifically. It contain essential information for insurance companies and ensure practitioners receive the full amount of reimbursements to which they're entitled. Medical billers should be aware that how modifiers are used differ widely among commercial payers and government-backed insurance plans. Some payers use older processing physical therapy software and still require retired modifiers.
He said that modifiers are commonly used to indicate the following circumstances:

Proving that a medical provider was assisted by a resident medical student or non-physician;
Once a technical aspect is included, such as equipment used that's owned and maintained by another medical provider or facility;
When a procedure is more extensive than anticipated, requires more time to complete or a higher level of skill;
Same procedure was performed on both sides of the body.
He added that claims can possibly be rejected when modifiers are not included in the payer's EMR software system. It's easier to check with the payer about modifiers before filing the claim. It saves time and effort on the part of the billing specialist and ensures clinicians are paid in a timely manner. It also prevents claims that are underpaid or overpaid. Both create financial difficulties for practitioners and can damage their reputation.
Billers should never employ modifiers simply to obtain more money, but when circumstances warrant their use, they ensure that clinicians receive all the funds they deserve for their time and expertise.
Chhoda's office can be reached by phone at 201-535-4475. For more information, visit the website at http://www.emrnews.com.
About Nitin Chhoda
Nitin Chhoda PT, DPT is a licensed physical therapist, a certified strength and conditioning specialist and an entrepreneur. He is the author of "Physical Therapy Marketing For The New Economy" and "Marketing for Physical Therapy Clinics" and is a prolific speaker, writer and creator of products and systems to streamline medical billing and coding, electronic medical records, health care practice management and marketing to increase referrals. He has been featured in numerous industry magazines, major radio and broadcast media, and is the founder of Referral Ignition training systems and the annual Private Practice Summit. Chhoda speaks extensively throughout the U.S., Canada and Asia. He is also the creator of the Therapy Newsletter and Clinical Contact, both web-based services to help private practices improve communication with patients, delivery better quality of care and boost patient retention.