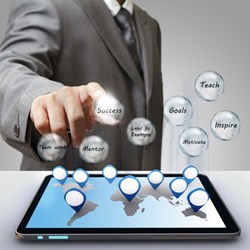 The web-based system requires no software installation, on-site servers, and updates are automatically provided as needed. Upgrades and new modules can be added as needed.
Denville, NJ (PRWEB) September 16, 2013
"Choosing the wrong EMR for your clinic will cripple productivity, significantly decrease reimbursements and lower the standard of patient care. However, if you've selected the best EMR for your practice, your clinic will increase productivity, financial health and level of patient care," said Chhoda. "I've identified the latest five major mistakes that practice owners should avoid when selecting an EMR."
Chhoda was among the first practice owners in the nation to embrace today's technology and open his practice to the benefits of integrated office systems. He's now using his extensive expertise to help others avoid critical mistakes that can be detrimental to their practice with the following tips, and a trial offer of In Touch EMR, a physical therapy documentation software, created by physical therapist and fitness expert, Ritika Gulrajani, PT, DPT.
Adoption of a Non-Integrated End-To-End System
According to Chhoda, an EMR is just one element of an efficient office management system. However, it should be fully integrated with all office processes and provide clinics with the ability to create customized appointment reminders and deliver them via email, text and voice messaging. An easy to navigate automated system allows patients to schedule and confirm appointments, and reach the office for more information.
Failure to Monitor Business Metrics
Electronic medical records provide a wealth of valuable information about the overall health of the practice. Therapists who fail to monitor the available statistics are losing revenue. Chhoda added that clinic owners can use their EMR to increase efficiency and productivity, locate areas where processes can be streamlined, and track the number of patients seen by each staff member. Business metrics provide essential information for staffing and trends within the clinic and the industry.
Selecting an EMR with Poor Voice Recognition and Mobile Browsers
All EMR systems aren't optimized for the iPad, nor are they web-based. The In Touch EMR was designed as an iPad app and works with multiple Internet browsers. The web-based system requires no software installation, on-site servers, and updates are automatically provided as needed. Upgrades and new modules can be added as needed. Speed is assured with browsers and software designed for the iPad. In Touch EMR is the only system in the world for therapists with an iPad app in the Apple Store.
No Secure Patient Communication and Payment System
With a mobile client base, ease, convenience and communication counts with patients. Chhoda said that therapists need a secure patient portal with which to communicate with clients via text, voice messaging and email. Outdated modes of communication quickly mire staff with excessive phone traffic that interrupts the office workflow. Patient portals provide the tools to communicate with patients through multiple avenues, for everything from appointment reminders and test results to prescription refills and medical billing payment information.
Failure to Optimize Patient Encounters and the Practice Workflow
The trend among healthcare providers is to have patients more involved in their care. An EMR accomplishes this by integrating into the overall workflow, automating tasks and having patients take more responsibility. Therapists have more time to spend with patients and staff is relieved of labor-intensive tasks. The practice saves money, becomes more productive and efficient.
It's critical for therapists to remember that an EMR is just one facet of a practice management system. Chhoda noted that he's offering clinic owners the opportunity to try the In Touch EMR without cost for 30 days to experience the advantages of a system specifically designed for therapy clinics. The EMR system provides the tools to help therapists avoid the most dangerous mistakes when choosing an EMR for smooth implementation.
Chhoda's office can be reached by phone at 201-535-4475. For more information, visit the website at http://www.emrnews.com.
About Nitin Chhoda
Nitin Chhoda PT, DPT is a licensed physical therapist, a certified strength and conditioning specialist and an entrepreneur. He is the author of "Physical Therapy Marketing For The New Economy" and "Marketing for Physical Therapy Clinics" and is a prolific speaker, writer and creator of products and systems to streamline medical billing and coding, electronic medical records, health care practice management and marketing to increase referrals. He has been featured in numerous industry magazines, major radio and broadcast media, and is the founder of Referral Ignition training systems and the annual Private Practice Summit. Chhoda speaks extensively throughout the U.S., Canada and Asia. He is also the creator of the Therapy Newsletter and Clinical Contact, both web-based services to help private practices improve communication with patients, delivery better quality of care and boost patient retention.