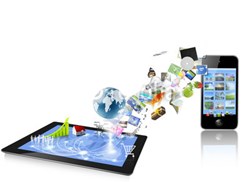 Keep goals realistic and have patience. The learning curve isn't the same for everyone and introducing changes gradually allows everyone to achieve proficiency.
Denville, NJ (PRWEB) July 18, 2013
"With patients to care for, we can't shut down our practices while we implement a new physical therapy EMR system that encompasses such extensive change. Therapists can reduce or eliminate many of the ensuing headaches by taking appropriate steps," Nitin Chhoda said.
He noted that it's imperative that practice owners give themselves and their staff enough time to learn any new system that's put in place and that's especially true of an EMR for physical therapy services. The following are tips for implementing an EMR according to Chhoda.

Project preparation. Physical therapy documentation software is complex. Depending on the software, it can include physical therapy billing, patient scheduling and a host of other features. Preparation of projects can help therapists establish a realistic timetable for installation, learning and deadlines.
Establish a budget. The price of physical therapy EMR can vary greatly, depending on the vendor and how comprehensive the software is. Some EMRs offer basic documentation, while others are an all-inclusive solution. Chhoda said it's significant for therapists to assess how much they have to spend before evaluating a system. "You may have to hire additional help while staff members learn the new technology. Be realistic. You could find yourself half way to full implementation and a depleted bank account," he added.
Hardware. Physical therapy EMRs are available to operate on a variety of platforms, from desktop computers to iPads. Equipment that's old, outdated and slow will cause nothing but frustration and inhibit implementation. Chhoda said in his experience, a portable tablet-based system such as In Touch EMR software developed by him and his wife, Ritika Gulrajani PT, DPT, offers greater flexibility.
Project Leader. Assign a single person within the practice to oversee the project to eliminate inefficiency, redundancy and confusion. Too many cooks spoil the soup and the same is true when implementing an EMR that affects every facet of the practice. Consult with the vendor about providing a project manager if no one is available or qualified for the task,
Perseverance. A workable electronic medical record solution doesn't happen overnight. Keep goals realistic and have patience. The learning curve isn't the same for everyone and introducing changes gradually allows everyone to achieve proficiency. Inundating staff with too much information all at once does nothing but create frustration, tension and an unhappy office environment that will be obvious to patients.
An EMR for physical therapy services opens a myriad of new opportunities. Reimbursements will be recovered quicker, physical therapy documentation is more efficient and available from a variety of locations, and patient care is improved. Chhoda's new tips provide practical guidelines to facilitate the implementation of an EMR system in practices of any size.
Chhoda's office can be reached by phone at 201-535-4475. For more information, visit the website at http://www.emrnews.com.
About Nitin Chhoda
Nitin Chhoda PT, DPT is a licensed physical therapist, a certified strength and conditioning specialist and an entrepreneur. He is the author of "Physical Therapy Marketing For The New Economy" and "Marketing for Physical Therapy Clinics" and is a prolific speaker, writer and creator of products and systems to streamline medical billing and coding, electronic medical records, health care practice management and marketing to increase referrals. He has been featured in numerous industry magazines, major radio and broadcast media, and is the founder of Referral Ignition training systems and the annual Private Practice Summit. Chhoda speaks extensively throughout the U.S., Canada and Asia. He is also the creator of the Therapy Newsletter and Clinical Contact, both web-based services to help private practices improve communication with patients, delivery better quality of care and boost patient retention.