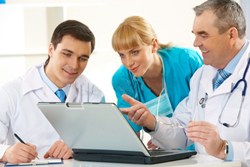 Depending on the EMR, the software system will offer password protected access, date and time stamping, keycard logging or biometric identification for individuals.
Denville, NJ (PRWEB) August 04, 2013
"HIPAA standards govern all aspects of a patient's personal and medical information, from how the data is stored to how it's transmitted to clearinghouses and payers for reimbursements," said Chhoda. "HIPAA violators face fines up to millions of dollars and possible jail time."
Electronic medical records are particularly helpful for maintaining and managing HIPAA compliance. If a breach occurs within the network, an EMR can notify other members, allowing them to take appropriate precautions. If a clinician chooses to operate an onsite EMR, he/she is solely responsible for all facets of security. For vendor offered EMRs, the onus is on the company to provide appropriate safeguards.
Chhoda noted that there are many ways in which a medical provider can run afoul of HIPAA regulations. Violations run the gamut from security and administrative to technical issues. Medical related entities must provide appropriate technical security to ensure the integrity of the network, and those safeguards go far beyond a simple firewall.
Technical security includes a combination of techniques, from SSL certificate authentication and antivirus protection to patch management for updates, along with regular back-ups. Other methods encompass double authentications, a daily physical therapy management log and file monitoring.
Even in the digital age, physical security is still an issue. Depending on the EMR, the software system will offer password protected access, date and time stamping, keycard logging or biometric identification for individuals. Surveillance cameras and alarm systems offer protection from physical tampering or removal.
Administrative safeguards are also required. The medical facility must have security policies and ensure that all staff members are fully briefed in HIPAA regulations. Audits and reports of the physical therapy business should be conducted by the vendor and practices notified immediately should a problem occur.
A compliance issue can mean disaster for practitioners in terms of time, money and loss of reputation. The new data offered by Chhoda provides clinicians with the essential information they need to remain HIPAA compliant, avoid legal issues and prosper.
Chhoda's office can be reached by phone at 201-535-4475. For more information, visit the website at http://www.emrnews.com.
About Nitin Chhoda
Nitin Chhoda PT, DPT is a licensed physical therapist, a certified strength and conditioning specialist and an entrepreneur. He is the author of "Physical Therapy Marketing For The New Economy" and "Marketing for Physical Therapy Clinics" and is a prolific speaker, writer and creator of products and systems to streamline medical billing and coding, electronic medical records, health care practice management and marketing to increase referrals. He has been featured in numerous industry magazines, major radio and broadcast media, and is the founder of Referral Ignition training systems and the annual Private Practice Summit. Chhoda speaks extensively throughout the U.S., Canada and Asia. He is also the creator of the Therapy Newsletter and Clinical Contact, both web-based services to help private practices improve communication with patients, delivery better quality of care and boost patient retention.