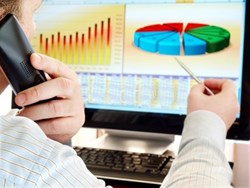 Patients that consistently cancel appointments or make a habit of not showing up take time away from those patients who do arrive for their scheduled treatments.
Denville, NJ (PRWEB) August 18, 2013
"Therapists can't assume patients will remember them, their appointments or prior health information," said Chhoda. "There will always be no-show patients, those who forget appointments and self-terminate their treatment. Therapists must utilize a variety of patient management techniques to get clients in the office, from simple emails to mobile marketing and employing an electronic medical record (EMR) system."
Chhoda noted that the most effective way of losing a patient is by making them wait more than four days to see their therapist and through excessive waits once they're in the office. Clients that consistently cancel appointments or make a habit of not showing up take time away from patients who do arrive for their scheduled treatments. Chhoda suggests automated office systems, such as Clinical Contact, that allows therapists to contact patients with reminders via voice and text messaging, email and mobile marketing options.
A new and even more effective way to streamline patient management is the In Touch EMR documentation software, that has been developed by Chhoda and his wife inventor, Ritika Gulrajani. This system integrates easily with other office systems and provides a patient portal for clients that expedite appointments, schedule, treatments and payments. All aspects are managed electronically, reducing wait times and accelerating physical therapy billing and reimbursements. The web-based EMR is flexible, customized, and tailored to meet the needs of individual practice.
"A simple text message or a phone call generated by an office system gently reminds clients without being invasive," said Chhoda. "Most text messages are read within five minutes of receipt, making it an ideal way of interacting with patients. It's a subtle reminder that helps get patients into the office. Clients perceive the therapist as an exceptionally caring provider, generating enormous good will and referrals."
Having a successful patient management can take many forms -- from small gifts and tokens of appreciation, to discounts, eBooks and audio CDs. But in today's fast-paced world, it's essential that therapists employ state-of-the-art methods that connect with patients on the go. Chhoda's tips for patient and physical therapy management are cost effective and allow practice owners to realign staff to attain outcomes that are more productive for patients and the clinic.
Chhoda's office can be reached by phone at 201-535-4475. For more information, visit the website at http://www.emrnews.com.
About Nitin Chhoda
Nitin Chhoda PT, DPT is a licensed physical therapist, a certified strength and conditioning specialist and an entrepreneur. He is the author of "Physical Therapy Marketing For The New Economy" and "Marketing for Physical Therapy Clinics" and is a prolific speaker, writer and creator of products and systems to streamline medical billing and coding, electronic medical records, health care practice management and marketing to increase referrals. He has been featured in numerous industry magazines, major radio and broadcast media, and is the founder of Referral Ignition training systems and the annual Private Practice Summit. Chhoda speaks extensively throughout the U.S., Canada and Asia. He is also the creator of the Therapy Newsletter and Clinical Contact, both web-based services to help private practices improve communication with patients, delivery better quality of care and boost patient retention.