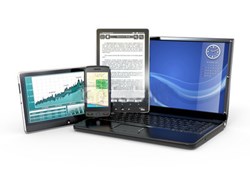 It's a feature that's especially valuable for therapists who offer programs at senior facilities, corporate sites and spas, and they're compatible with the iPad. Therapists aren't limited by proximity to a server.
Denville, NJ (PRWEB) August 17, 2013
"Therapists can choose a server-based or web-based documentation system," said Chhoda. "But the benefits of a web-based solution that maintains documentation in the cloud far outweighs other options in terms of security, cost, portability, integration and training, and practice profitability."
Cost
A physical therapy EMR doesn't have to place a practice in dire financial straits. Chhoda said that there are low-cost, web-based EMRs that offer multiple service levels to fit the budgetary constraints of any practice. Clinicians can begin with basic services that include a patient portal, billing and coding, multiple means of communication and documentation. Therapists don't have to hire IT personnel to perform back-ups and keep the system operating because there are modules that can provide other functionalities as needed.
Security
A web-based EMR for physical therapy services provided by vendors must meet stringent security regulations to prevent breaches that could compromise identifiable patient data. Maintaining a secure framework to protect sensitive patient information is of the highest priority to maintain HIPAA compliance. The vendor is responsible for all security measures, safeguards and back-ups. Chhoda noted that practice owners with a server-based physical therapy software system must establish and maintain their own HIPAA-compliant security, complete with updates and upgrades as needed.
Portability
A web-based EMR provides therapists with the ability to access information from any locale where an Internet connection is available. It's a feature that's especially valuable for therapists who offer programs at senior facilities, corporate sites and spas, and they're compatible with the iPad. Therapists aren't limited by proximity to a server.
Profitability
Web-based EMR help therapists have the ability to submit reimbursement claims individually or as a batch for convenience. Missives are sent instantly, arriving at their intended destination in minutes, allowing businesses to be paid sooner. Denials, questions and requests for extra documentation are handled in moments to facilitate better cash flow. The flow of information is never reduced, even during peak times of usage.
Integration and Training
Chhoda said that web-based EMRs offer easy integration of all office systems, with training provided by vendors. There's no need for staff members to stumble through the implementation and learning process. Web-based systems can be available immediately and can have the practices up and running in as little as 30 minutes, compared to the extensive installation and implementation of server-based programs. A variety of training can be offered online to assist staff in EMR adoption.
Web-based EMRs represent the future of physical therapy documentation software, reducing the cost of operations through integrated systems that allow practice owners to conduct business more efficiently and productively. Secure, portable systems provide the means for therapists to extend their services to new venues for increased profitability now and in the future.
Chhoda's office can be reached by phone at 201-535-4475. For more information, visit the website at http://www.emrnews.com.
About Nitin Chhoda
Nitin Chhoda PT, DPT is a licensed physical therapist, a certified strength and conditioning specialist and an entrepreneur. He is the author of "Physical Therapy Marketing For The New Economy" and "Marketing for Physical Therapy Clinics" and is a prolific speaker, writer and creator of products and systems to streamline medical billing and coding, electronic medical records, health care practice management and marketing to increase referrals. He has been featured in numerous industry magazines, major radio and broadcast media, and is the founder of Referral Ignition training systems and the annual Private Practice Summit. Chhoda speaks extensively throughout the U.S., Canada and Asia. He is also the creator of the Therapy Newsletter and Clinical Contact, both web-based services to help private practices improve communication with patients, delivery better quality of care and boost patient retention.