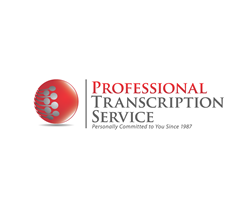 Enhancing our menu of offerings with Dragon Medical Practice Edition 2 strengthens our ability to assist clients in providing high quality patient care
La Porte, IN (PRWEB) April 02, 2015
Professional Transcription Service, Inc., announced today the addition of Dragon® Medical Practice Edition 2 to their product inventory, allowing them to offer the most advanced speech recognition technology available, for medical practices with 24 physicians or less. Over 200,000 physicians worldwide have already adopted Dragon Medical speech recognition technology, adding ease and convenience to their practice, while realizing a significant return on investment.
"Enhancing our menu of offerings with Dragon Medical Practice Edition 2 strengthens our ability to assist clients in providing high quality patient care, with a focus on patients rather than computers," said Debra Gardner, Owner and President of Professional Transcription Service. "We take pride in providing transcription services that interface with any EMR system and allow clinicians to maintain productivity, provide outstanding care and create accurate and complete electronic medical records for their patients."
Dragon Medical Practice Edition 2 includes over 90 medical specialty and subspecialty vocabularies as well as regional accent support, elevating the recognition accuracy to more than 99 percent, right out of the box. Physicians who adopt Dragon Medical Practice Edition 2 can turn speech into text three times faster than typing.
The software also allows physicians to dictate patient encounters in their own words, including history of illness, review of symptoms, physical examinations and more. Frustrations with EMR adoption are minimized with Dragon Medical Practice Edition 2, which streamlines the process of dictation and transcription. Significant time is saved with the software's speech-enabled navigation and customizable macros for frequently used words.
If you'd like to learn more about Dragon Medical Practice Edition 2, visit: http://www.ptsmanns.com/products/dragon-medical-practice/
To find out more about the services provided by Professional Transcription Service, visit: http://www.ptsmanns.com/
About Professional Transcription Service:
Professional Transcription Service has been specializing in the interpretation and documentation of medical information for more than 20 years. Our goal is to provide you with individualized service that will allow you to keep your patient care at its highest level, produce professional quality documentation of your patient records, save you money and increase your productivity, all while achieving Meaningful Use compliance as your EMR is automatically populated with your dictation.