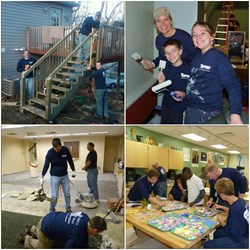 Our teams will complete projects that would cost these organizations thousands to do on their own. Because construction is what we do, we can take care of the assignments fairly quickly and easily.
Washington, D.C. (PRWEB) December 05, 2013
Tomorrow, over 200 Turner Construction Company employees, family members, friends and partners will spend the day assisting 12 Washington, DC area charities, offering their time and talents to perform tasks from repairing a fence for a charter school to hosting a holiday puppet show to assisting a local food bank in sorting and packing donations to deliver to families. See the complete list of projects here.
Paint the Town Blue is an annual holiday volunteer project started in Cincinnati by Ken Jones five years ago as a way to help citizens after the economic downturn. Now, Turner offices around the country are participating and Jones, currently the Vice President and General Manager for its Mid-Atlantic Region, has initiated the program for the first time in the DC Metro Area.
The organizations Turner will be helping this year include:

Goodwill – Arlington
Habitat for Humanity
DC Public Schools – Barnard Elementary School
Arlington-Alexandria Coalition for the Homeless (AACH)
Arlington Street People Assistance Network (ASPAN)
Covenant House. Washington (CHW)
So Others Might Eat (SOME)
N Street Village
Capital Area Food Bank
Appletree Charter School
Toys for Tots
Bread for the City
Hispanic Chamber of Commerce
Sibley Memorial Hospital – Grand Oaks Assisted Living
"Our teams will complete projects that would cost these organizations thousands to do on their own. Because construction is what we do, we can take care of the assignments fairly quickly and easily," said Ken Jones, General Manager for Turner Mid-Atlantic. "Our employees are excited for this event and we are proud to support our community with Paint the Town Blue."
These projects are identified through local charitable organizations that Turner's employees have personal and emotional connections to and distributed widely across Turner's Mid-Atlantic geographical region so that all job sites and satellite offices might participate.
If you are interested in participating or would like to make photo or interview arrangements, please contact Kelley Ritchie at kritchie(at)tcco(dot)com or 202-715-2151.
About Turner Construction Company
Turner is a North America-based, international construction services company. Founded in 1902, Turner first made its mark on the industry pioneering the use of steel-reinforced concrete for general building, which enabled the company to deliver safer, stronger, and more efficient buildings to clients. The company continues to embrace emerging technologies and offers an increasingly diverse set of services. With an annual construction volume of $9 billion, Turner is the largest builder in the United States, ranking first in the major market segments of the building construction field, including healthcare, education, sports, commercial, and green building. The firm is a subsidiary of HOCHTIEF, a publicly traded company, and one of the world's leading international construction service providers. Click here for more information on Turner Construction Company.
About HOCHTIEF
HOCHTIEF is one of the most international construction groups worldwide. The company delivers complex infrastructure projects, in some cases on the basis of concession models. The Group operates in the transportation infrastructure, energy infrastructure and social/urban infrastructure segments as well as in the contract mining business. With nearly 80,000 employees and a sales volume of more than EUR 25 billion in FY 2012, HOCHTIEF is represented in all the world's major markets. With its subsidiary Leighton, the Group is market leader in Australia. In the USA, the biggest construction market in the world, HOCHTIEF is the No. 1 general builder via its subsidiary Turner and, with Group company Flatiron, ranks among the most important players in the field of transportation infrastructure construction. Because of its engagement for sustainability, HOCHTIEF has been listed in the Dow Jones Sustainability Indexes since 2006. Click here for further information on HOCHTIEF.