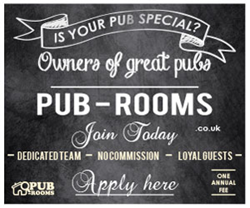 pub rooms are also making it clear that the Pub Rooms guide will continue to focus on room availability for accommodation and function room hire facilities
(PRWEB) June 30, 2014
Pub Rooms is continuing its growth objective and has successfully acquired the internet Find Inns guide.
"It's very possible the Find Inns guide will cease to exist in the long term, but for the short term it will function as it currently is," says marketing Director Peter Jones. Jones goes on to state that, "The pub rooms internet guide has invested heavily over recent years to ensure its primary objective of being the best pubs guide for pubs with rooms is reached. Acquiring Find Inns will allow us to add more Inns to the London section of Pub Rooms."
The new service currently being rolled out will cater for pubs & Inns with offers they need to publish fast, so the news is positive for pub owners that Pub Rooms is reaching its targets. Earlier this year, Pub Rooms added a real ale pub section to the guide.
Established in 2002, the British Pub Guide is growing and getting better despite fierce competition within the pub sector.
Pub Rooms will be releasing details shortly of a launch party held in the summer of 2014 to celebrate a number of additions to the guide.
Find Inns is now another reason to party, says Peter Jones. There has always been a focus on rooms from the pub rooms guide, specifically, traditional British pubs offering great food and services around the rooms.
"English Inns are symbolic within the UK so it is important Pub Rooms captures the the diversity of the pub trade in the very best way it can," says marketing director Peter Jones. He goes on to state that, "The pub guide is growing at a faster pace and pubs and inns across the UK are actively updating their details weekly; it only seems right that the Inns selection is strengthened."
The owners of pub rooms are also making it clear that the Pub Rooms guide will continue to focus on room availability for accommodation and function room hire facilities.
"Already this year, the Pub Rooms guide has joined forces with a UK Touring magazine, which is published monthly, so it's an exciting time ahead as we get better and better at serving internet users and people thinking about visiting Britain and want to experience alternative accommodation" says Managing Editor Andrew Maynes.