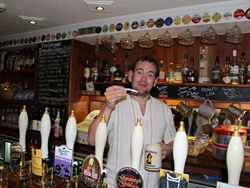 By bringing our visitors attention to the vast number of pubs to stay in or to party in is our primary objective
(PRWEB) July 31, 2014
A series of prize draws have been launched by Pub Rooms to celebrate and recognise the importance of the traditional British pub within the UK.
The Pub Rooms Internet Guide launched a short series of prize draws with the first winner being selected in a Birmingham City Centre real ale pub, The Post Office Vaults. Pub & Bar manager Paddy kindly selected the winner from a traditional beer mug. Marketing Director Peter Jones explains "the initial concept was to bring British Pubs attention to using social media to engage with their customers. By using social media, customers get a rich media experience for what can be on offer before visiting a pub and importantly read feedback from local pub customers". Jones goes on to state that "Pub Rooms has gone through some big changes recently. We've merged with the London Pub Hotel guide and taken on Find Inns. It's imperative we ensure the brand Pub Rooms stands for representing a place on the internet to find British pubs with rooms to hire. By bringing our visitors attention to the vast number of pubs to stay in or to party in is our primary objective. By launching this series of prize draws through Facebook and giving cash prizes to the winners to spend behind the bar on food and drink we expect to hear some great feedback from pubs and customers"
The series of competitions was kicked off during July with the remaining short burst continuing throughout the Summer months of August 2014.
Pubs and Inns interested in participating in the prize draw initiative should contact the management team for Pub Rooms directly on 01827 714753