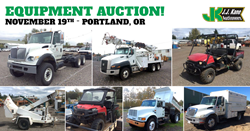 Portland, OR (PRWEB) November 11, 2015
The auction is located at 1940 N. Victory Blvd., Portland, OR 97217, with bidding beginning at 9:00 a.m. Thursday, November 19th. Bidders can participate in person or online. Items are available for public inspection on Wednesday November 18th, 8a.m.-4 p.m. and also beginning at 7:00 a.m. on auction day. Several times each year retiring autos and equipment are offered for sale to the general public at this auction.
JJ Kane auctions are unreserved. That means that everything sells to the highest bidder, regardless of price. Owners are not allowed to bid on equipment they have consigned to the auction.