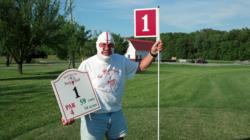 Akron, NY (PRWEB) July 02, 2013
America's first officially sanctioned Park Golf course will soon be a reality when representatives from the Nippon Park Golf Association arrive from Japan to assist in the grand opening of the Destroyer Park Golf course in Akron, New York, on Sunday, July 7, the course recently announced. The ribbon cutting is scheduled for 1 p.m.
The immediate question that comes to mind is, "What is Park Golf?" Park Golf is a form of golf that was invented in Makubetsu, Hokkaido, Japan, in 1983, and is essentially a much smaller version of the game of golf – a version that was originally designed to be played in a small park, hence the name "Park Golf." The Destroyer Park Golf course, named after Professional Wrestling Hall of Famer The Destroyer (a.k.a. Dick Beyer), will be first officially sanctioned Park Golf course in the United States.
Park Golf is a game that is played with one club on a course of nine holes, the total yardage of which cannot exceed 500 meters (roughly 545 yards). Most Park Golf courses have multiple nine-hole courses, and The Destroyer Park Golf course will open with two nine-hole courses, with more courses planned for the future.
The club used in Park Golf resembles a traditional driver, but has a shorter, stiffer shaft and a zero-loft head. The ball is made of hard plastic and is slightly larger than a golf ball, and the cups are about eight inches in diameter. Since Park Golf holes have an average distance of 60 or 70 yards, the ball is not designed to travel like a conventional golf ball, and because there is no loft on the club head, it is also not designed to gain much height.
Other than that, Park Golf is much like golf – each hole has a par and scoring is similar to golf. "But there is one other distinct difference: It is much easier to play than golf, and anyone can have fun from the very first game," said Kris Jones, owner of Destroyer Park Golf.
In Japan, senior citizens immediately took to the game as it offered them an out-door activity and social life that they could easily enjoy. And since the game is so easy to play, they started bringing their grand children – after that, it wasn't long before the game gained tremendous popularity across all age groups in Japan.
Another attractive feature of Park Golf is that it is not expensive to play. It is only $8 for the full 18-hole course.
Destroyer Park Golf is located at 7065 Sandhill Road, Akron N.Y. 14001. Call them today at 1-716-442-5070 for more information.
About the company:
Destroyer Park Golf is the first ever Park Golf course in the United States. Located conveniently between Rochester and Buffalo, Destroyer Park Golf is not a typical public golf course. Destroyer Park Golf was designed for "Park Golf," a Japanese phenomenon that has recently made its way to the United States. The location makes it one of the best public golf courses in WNY. For more information, please visit their website at http://www.destroyerparkgolf.com.