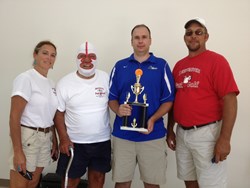 Akron, NY (PRWEB) October 07, 2013
The First Destroyer Park Golf Tournament, held on Saturday, Sept. 28 in Akron, N.Y., turned out to be a great success. Golfers couldn't have asked for a better day as they enjoyed perfect weather. There was a solid turnout with golfers ranging from 10 to over 55 years old. This was the first ever park golf tournament held in the United States.
The first round of golf was followed by a fantastic lunch sponsored by the Candy Apple Café, Yogi's Brick Oven Bistro, P.E. Personal Training, and Perry's Ice Cream. Scores were tabulated and players re-seeded for round two. It was a close match up for all groups in the second round.
Depew's Phil Kosobucki won the tournament, beating out his closest competitors by four strokes. A beautiful winner's trophy was donated by Tony Martin Awards. Kosobucki has been a regular at Destroyer Park Golf since they opened, bringing friends and sharing the news of park golf. After falling in love with the game, he is one of a few players that have even invested in his own club and ball (purchased at the Club House).
Other awards included Closest to the Pin for a man and woman, Hole-in-One, a Destroyer & Doctor X Award, and Special Encouragement Awards (for the four highest scores). Tom Brady and Ann Paquin won gift baskets and certificates from DiPaolo's Restaurant for Closest to the Pin; Male and Female.
There were three holes-in-ones. The first was Frank Arcury on the 13th hole, considered the best green on the course. The second was by Ben Barnhardt on the eighth hole and the third by Scott Warren on the 12th hole. Each hole-in-one achiever was given a season pass for 2014 and a special shirt.
The Doctor X and Destroyer Awards went to two young adult participants: Roman Barnhardt and Christian Post. Their Special Encouragement Awards were Japanese Furoshiki's. Each golfer received a commemorative T-shirt and a gift.
Kris Jones and her husband, Chris, ran the whole tournament. Chris did a spectacular job getting the course looking the best it has looked so far this year. Chris also held a pre-play meeting to make sure the rules particular to park golf were understood by all golfers.
Chris extended the invitation to next year's tournament for all participants, encouraging early registration. A sold-out event is anticipated for next year.
The CD Wright Community Center PARK GOLF Tournament for HELP & HOPE will be held on Saturday, Oct. 19. Call Ray Hayley at (716) 542-2060 for details or visit http://www.DestroyerParkGolf.com and download a registration form.
About the company:
Destroyer Park Golf is the first ever Park Golf course in the United States. Located conveniently between Rochester and Buffalo, Destroyer Park Golf is not a typical public golf course. Destroyer Park Golf was designed for "Park Golf," a Japanese phenomenon that has recently made its way to the United States. Park Golf can be described as a smaller version of golf. The smaller scale allows for players of all ages and abilities. The location makes it one of the best public golf courses in WNY. For more information, please visit their website at http://www.destroyerparkgolf.com.