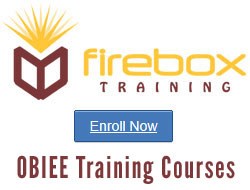 The technology for successfully delivering online training courses has come a long ways in recent years.
Golden, CO (PRWEB) August 19, 2013
Firebox IT training is expanding its public course offerings to include all OBIEE training courses. Bolstered by a fast start and more and more requests for new public online course options, Firebox has expanded to include the popular Oracle Business Intelligence Enterprise Edition (OBIEE) training as part of the core public online course offerings.
The new online enrollment process for all OBIEE training courses improves access for the highly demanded OBIEE training courses. Public enrollment for individuals and small groups of five or less is now possible 24/7 in select IT training courses from Firebox Training. Recently, Firebox added a new section to their website to accommodate the public course scheduling and enrollments online: http://shop.fireboxtraining.com/obiee/ .
"We decided to offer all the online OBIEE training courses simply to meet the demand from across the country," said Shawn Johnson, Firebox Marketing Director.
This new enrollment process is ideal for the small IT staff, where training is needed for five or less staff members. Most IT courses for individuals and small groups these days are offered as static online videos or as live interactive instructor-led online courses. Firebox Training believes its live interactive instructor-led online delivery helps them get the right courses to right students when needed for business in a real time environment.
Some critics of virtual learning have asked, how can these courses be considered a hands-on learning experience? The explanation from Firebox includes a variety of cutting edge tools, course ware and technology that bring the classroom to the student. After enrolling students receive details and setup documents or depending on the course, students will have access to their own cloud server to use. The cloud server is the students' sandbox or working environment for labs during the course. Courses consist of lecture, informal labs and more structured hand-on labs.
"Firebox is a good place to get technical training online. Great instruction and easy to follow courses. If in-classroom training is not an option, online courses are great option," said a recent Firebox student.
"The technology for successfully delivering online training courses has come a long ways in recent years," says Shawn Johnson, the Director Marketing at Firebox Training. "Using cloud servers, we can make learning OBIEE easier with little to no setup required by the students," Johnson continued.
Instructor-led online classes are becoming more popular for small businesses and throughout all educational systems. Public schools and colleges have turned to online courses as a viable opportunity to classroom style. It save times and money to take a class online compared to traveling to a location for a classroom.
Firebox Training offers "Super Nova" and "Fire Starter" early enrollment discounts on the OBIEE training. The earlier you commit to a training course, the more you save on your training services fee.
Firebox Training was founded in 2007 in Golden, Colorado. Since that time, Firebox has delivered training for well-known organizations including, BMW North America, General Dynamics, The Wharton School, Vertafore, Comcast, NREL, Citrix, Time Warner, State of Alaska and HomeAdvisors, just to name a few. Firebox instructors travel to client locations across the globe; most recently completing training in Pittsburg, New York, Boston, Austin, Seattle and Denver.