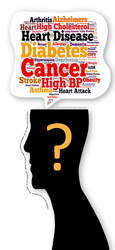 There is an urgent need to create a uniform definition of sudden cardiac arrest in consumer-friendly language and use it consistently across organizations, the medical community, and the media
New Orleans, LA (PRWEB) November 15, 2016
Nearly 300,000 people die from sudden cardiac arrest [1] each year in the U.S. [2], but the life-threatening condition is not on consumers' radar, according to a study by the Sudden Cardiac Arrest Foundation, in collaboration with StrataVerve, presented at the American Heart Association Resuscitation Science Symposium. The innovative research may be the first of its kind since it applied consumer product research thinking to determine where sudden cardiac arrest fits in the hierarchy of healthcare concerns among the general public.
Fielded in November 2015, the research consisted of online interviews of a representative sample of 1,000 U.S. respondents, plus a benchmark sample of 200 respondents from King County, Washington, an area recognized for its high cardiac arrest survival rates. In addition, in-depth interviews were conducted among tourists in Orlando, Florida.
Although sudden cardiac arrest is the third leading cause of death in the U.S. [3], researchers found that cancer, diabetes and heart disease are the top three healthcare concerns among consumers. Few respondents mentioned heart attack as a concern and no one mentioned cardiac arrest.
Study findings also suggest there is considerable confusion about the difference between heart attack and cardiac arrest, which may be contributing to consumer apathy. There was even confusion among those who have taken a CPR course as to when to use it and why.
When survey participants were introduced to a consumer-friendly definition of sudden cardiac arrest and the importance of bystander intervention, interest in learning CPR and how to use automated external defibrillators increased dramatically. What motivated respondents most was the fact that sudden cardiac arrest can happen to anyone at any time, and the fact that CPR can double or triple survival rates.
"Our research indicates there is an urgent need to create a uniform definition of sudden cardiac arrest in consumer-friendly language and to use it consistently across organizations, the medical community, and the media," said Mary Newman, MS, of the Sudden Cardiac Arrest Foundation. "An integrated marketing, communications and outreach plan at a national level is of utmost importance if we are to increase survival from sudden cardiac arrest."
Jennifer Chap of StrataVerve has a personal connection to the cause. She helped save her husband Rick's life when he collapsed at their home in 2012. Alerted by their cat Buddy that something was wrong, she found Rick, called 911, and, with dispatcher assistance, provided CPR until EMS arrived. "When Rick arrested, I too was unaware of sudden cardiac arrest in seemingly healthy people," she said. "So, I was driven to apply my research expertise to learn how many others like me would be unaware, and what will motivate a person to be prepared to save a life."
For more information, click here.
To watch video clips from interviews, click here.
[1] Sudden Cardiac Arrest is a condition that occurs when the heart unexpectedly stops beating. As a result, blood is no longer pumped to the brain and other parts of the body and the person suddenly passes out and appears lifeless. Some victims also experience abnormal gasping and seizures. Death follows within minutes if the person does not receive immediate CPR and treatment with a defibrillator.
[2] Heart Disease and Stroke Statistics—2016 Update: A Report from the American Heart Association Mozaffarian D, et al. Circulation. 2016;133. Originally published December 16, 2015.
[3] IOM (Institute of Medicine). 2015. Strategies to improve cardiac arrest survival: A time to act. Washington, DC: The National Academies Press.
About the Sudden Cardiac Arrest Foundation
The Sudden Cardiac Arrest Foundation is a national community benefit 501(c)(3) organization dedicated to raising awareness about sudden cardiac arrest and saving lives. Programs include the Sudden Cardiac Arrest Network, an online community that provides peer support and opportunities for survivors and family members to participate in awareness, advocacy, and research initiatives.
About StrataVerve
StrataVerve is a strategic marketing and research firm with expertise in consumer insights, product development and brand strategy across multiple categories. The StrataVerve difference is an integrated, analytic decision-driven approach that turns research findings into consumer action.