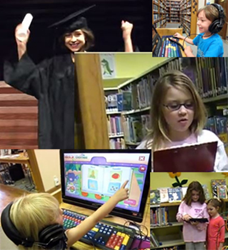 This year, we decided to expand the number of winners to give more libraries the chance to win. We are a big believer in the importance of public libraries and what they mean to communities. - Paul Getzen, Director of Library Sales
Chester, PA (PRWEB) July 01, 2014
AWE, Inc. announced the winners of its 2014 Video Contest for Public Libraries at its annual breakfast event for customers at the American Library Association (ALA) Annual Conference in Las Vegas, Nevada on June 28, 2014.
Frisco Public Library in Frisco, Texas; Marian Sutherland Kirby Library in Mountain Top, Pennsylvania and White House Inn Library and Museum in White House, Tennessee, garnered the most votes by the AWE staff for their entertaining, creative, and inspiring videos.
"This award gives libraries a creative way to showcase themselves, to get children involved in a fun activity and to illustrate the value the Early Literacy Station computers bring to their libraries and community. It is also a great way for libraries that don't yet have an Early Literacy Station to get their first one," said Paul Getzen, Director of Library Sales for AWE. "This year, we decided to expand the number of winners so that more libraries had a chance to get a new Early Literacy Station. We are a big believer in the importance of public libraries and what they mean to communities. We try to do all we can to support them."
Each library will receive a free Early Literacy Station™ or AfterSchool Edge™ (winner's choice), which includes AWE's warranty and upgrades plan for three years.
The annual video contest is open to all public libraries. All of the submissions from this year's contest are available for viewing on YouTube at this link.
The Early Literacy Station, AWE's flagship digital learning solution, is found in more than 40% of public library systems in the United States. It is an all-in-one computer system designed for children ages 2-8 that offers a safe learning environment. No Internet connection is needed. It contains over 70 educational software programs including Kid Pix 3D, eBooks from Yellow Door and Wanderful, Dora The Explorer, Math Doodles, Miss Humblebee's Academy and Sesame Street titles. The software content spans all curriculum areas, from math and science to art and music. The AfterSchool Edge is similar to the Early Literacy Station but features content geared for ages 6-12.
About AWE, Inc. (http://www.awelearning.com)
AWE's mission is to inspire children to become lifelong learners and to create a "community learning" network that includes public libraries, schools, child care centers, and the home. AWE's engaging digital learning solutions feature intuitive learning environments, are easy to use, feature educational content across all subject areas, and can be personalized for every child. For more information, visit http://www.awelearning.com.