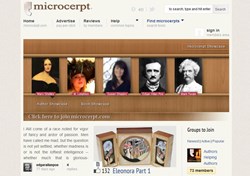 "The beauty of microcerpt is that it puts authors in the driver's seat by allowing them to offer readers a level of interaction that reaches far beyond the sale of a single book."
ANACORTES, Wash., (PRWEB) October 22, 2013
Independent (indie) authors find better ways to engage and expand their readership with microcerpt's new subscription based eReader. The site today announced this enhanced functionality, that opens the door to extended creative and literary freedom for authors. Authors are now in full control as they can set the market price on their own customized package that can include just about anything they'd like, such as private book club memberships, eBook access, newsletter delivery, and opportunities for direct reader-author contact.
As a successful indie author who actively sought alternative routes to publishing, microcerpt founder George Douglas understands the needs of today's writer in a self-publishing market. Prior to microcerpt, finding the right platform, explains Douglas, one with author-controlled built-in monetization, expanded reader engagement opportunities and technical storefront design was impossible to find.
"Every writer has different aspirations and goals. Some may wish to indulge fans with extended character development for example, while others may wish to keep it simple and only sell books," he said. "The beauty of microcerpt is that it puts authors in the driver's seat by allowing them to offer readers a level of interaction that reaches far beyond the sale of a single book."
Douglas' personal philosophy ("Engage Readers - Build Relationships - Sell Books - Keep Profits") is at the core of the microcerpt platform design and is reflected in the microcerpt Pro premium service. Its full spectrum of marketing tools is designed to help indie authors launch and direct their careers as genuine business owners.
microcerpt Pro authors enjoy the following perks, among many others:

One year of prominent advertising throughout the microcerpt site.
All excerpts are formatted and submitted for the author including custom artwork.
The building, design and hosting of an author's digital bookshelf equipped with microcerpt's eReader technology.
Author controls to create and maintain an exclusive community for fans.
eBook subscription packages at an author-specified price. eBook format conversions included.
Additional exposure on microcerpt's social networks as well as valuable placement within the microcerpt Showcase.
"Each marketing tool and community enhancement we choose is intended to elevate an author's visibility and ultimately boost his or her confidence in the microcerpt publishing space," adds Douglas.
The site is making notable progress in this regard. The platform's novelty—a first-of-a-kind network of writing samples called microcerpts—is in line with its author-centric, unconventional approach. For example, talented yet undiscovered writers enjoy equal footing with better-known writers, as they can present their writing samples and earn clout solely on the basis of content quality.
The microcerpt platform is free to use and enjoy. Pro author memberships containing customized digital bookshelves and the new eReader technology are available for $149 annually, equivalent to just $12.95 per month. More information is available at http://www.microcerpt.com.
About microcerpt:
microcerpt is a breakthrough, DIY publishing platform/community connecting readers and writers through a "universe of excerpts." microcerpt is based in Anacortes, Wash., and is a division of Castle Douglas Productions, LLC.