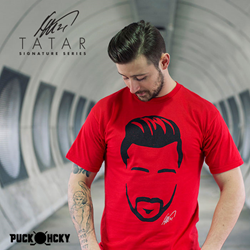 Royal Oak, Michigan (PRWEB) March 03, 2015
PUCK HCKY, LLC have collaborated with Detroit Red Wing star, Tomáš Tatar, to launch the Tomáš Tatar Signature Series, a collection of custom-designed hockey fashion items, accessories, and more.
The Signature Series goes beyond your typical corporate-licensed hockey apparel to offer fans an exclusive and more personal connection to Tomáš Tatar. "We've co-developed high-end, designer hockey-wear that incorporates Tomáš' personality, interests, and background," said Matt Marini, CEO and co-founder of PUCK HCKY, a Michigan-based hockey brand development firm. "The Tatar Signature Series has a wide variety of designs, including a hand-drawn image of one of Tomáš' tattoos and an abstract likeness of Tomáš that is already a fan favorite; each image was designed to reflect Tomáš' fun-loving, charismatic personality and Slovak heritage."
To view the entire Tomáš Tatar Signature Series collection, visit http://www.puckhcky.com
ABOUT PUCK HCKY, LLC
PUCK HCKY, LLC is a Michigan-based brand development firm engaged in the design, marketing, and distribution of PUCK HCKY and Signature Player branded apparel, accessories, and media in the hockey affinity space.
FOR MORE INFORMATION:
MATT MARINI
PUCK HCKY
248.633.5709
matt(at)puckbrands(dot)com