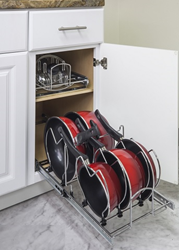 Adding simple pull out shelves or more complicated kitchen organizers not only makes it possible to fit more stuff in the same sized cabinet, but also keeps everything in the cabinet more accessible.
(PRWEB) April 04, 2015
HomeThangs.com – the Online Home Improvement Store has made their goal to deliver the right product to the consumer. With that in mind, shopping and home design tips, as well as special product selections are being introduced.
Organizing a small kitchen can be a big hassle. The second part of HomeThangs.com's new series on small kitchen storage takes a look at a few semi-permanent solutions that can be integrated into an existing kitchen. More substantial than basic organizers, but less invasive than a major renovation, these middle-of-the-road organizers are perfect for making a big change on a small budget.
Most kitchens – even small ones – come with more than enough built in storage to get an average cook up and running. The problem is that much of the space inside any given kitchen cabinet isn't usable or accessible. Items that are put too far back will get lost, and items can only be stacked so high up without getting disorganized. Pull out organizers tackle this problem head on by making it possible to store items throughout the entire cabinet, from front to back and top to bottom, while still keeping everything easy to access.
Full extension glides make it possible to remove everything in the cabinet all at once without disrupting it, while more complex gadgetry makes it possible even to store items in blind corner cabinets that are ordinarily a nightmare to access. Though these upgrades are necessarily permanent – they'll need to be drilled into the sides of the cabinet – they're relatively easy to install, and come in a wide range of sizes and styles to make it simple to customize them to the needs of any given kitchen.
For a more in depth look at different types of pull out organizers for the kitchen, check out the full article here.
HomeThangs.com is not only a home improvement superstore, it also provides expert design tips and a comprehensive shopping guide, taking the ideas from professional interior designers, and offering tips to the consumers on how to pick the products to best suit their needs.