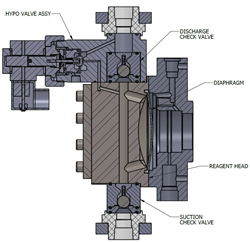 PulsaPro is widely used for water and wastewater treatment applications in power plants, chemical plants, refineries, upstream oil & gas environments and in municipal treatment plants.
ROCHESTER, N.Y. (PRWEB) May 21, 2020
Pulsafeeder, a global leader in fluid handling technology since 1942, today announced an addition to the PulsaPro family of Hydraulically Actuated Diaphragm Metering Pumps, with the introduction of the Hypo Valve, which is used for pumping effervescent fluids such as Sodium Hypochlorite.
The Hypo Valve is the latest innovation for the PulsaPro Pump Series and is designed to manage off-gassing in dosing applications. The Hypo Valve technology allows pressurized process fluid to cyclically flush liquid and vapors through the pump's discharge check system, while maintaining high performance and chemical dosing accuracy. This avoids common issues, such as vapor-lock, which lead to reduced capacity and inaccurate chemical dosing, while also preventing unnecessary maintenance work.
When pumping effervescent fluids, oxygen can continuously accumulate within the reagent head, significantly affecting a pump's performance and requiring user intervention to purge the gas. The Hypo Valve features a closed loop vapor-handling system and a uniquely sealed solenoid valve that automatically evacuates trapped vapors from the reagent head. PulsaPro Pumps, configured with the Hypo Valve, are self-priming for faster and more efficient commissioning. With the addition of this technology, the PulsaPro pump efficiently handles off-gassing chemicals, such as Sodium Hypochlorite. It also reduces monitoring requirements and maximizes uptime for the system.
The patented Hypo Valve design is based on proven technology that has been deployed in the field for decades, via PulsaPro's predecessor Pulsar and Pulsar Shadow pumps. The Hypo Valve option is integrated directly into the PulsaPro pump – so it does not require ancillary piping or additional equipment to effectively address Sodium Hypochlorite disinfection applications.
"The PulsaPro family of pumps is widely used for water and wastewater treatment applications in power plants, chemical plants, refineries, upstream oil & gas environments and in municipal treatment plants, and the addition of the Hypo Valve will help anyone metering Sodium Hypochlorite or other gas-entrained fluids in these environments," said Pulsafeeder's PLM, Bobbie Montagno. "This latest enhancement illustrates our commitment to addressing the challenging problems our customers face and making their job as easy as possible."
PulsaPro Hydraulically Actuated Diaphragm metering pumps are known for their extreme accuracy and reliability in metering highly corrosive chemicals, in hazardous environments. For Oil and Gas applications, the PulsaPro family is designed to be fully compliant with API 675 requirements, allowing for the integration into Upstream and Downstream systems without exceptions. PulsaPro's efficient architecture addresses a wide flow and pressure envelope, with minimal horsepower requirements, housed in a small, space saving footprint. To learn more, contact Pulsafeeder at: ProSales@idexcorp.com, or visit http://www.pulsa.com.
About Pulsafeeder:
In the early 1940's Pulsafeeder pioneered the hydraulically actuated diaphragm metering pump principle, and the company has been a global leader in fluid handling technology ever since. With experience in multiple industries, including: water & wastewater treatment; chemical & petrochemical processing; oil and gas; refineries, power generation as well as upstream applications, Pulsafeeder's reciprocating and rotary gear pumping technologies meet and exceed the industry requirements for safety, reliability, and precise control. For more information, visit: http://www.pulsa.com.