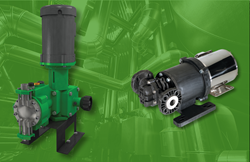 Visit Pulsafeeder this week at the Turbomachinery & Pump Symposia in Houston( booth #1013)
HOUSTON (PRWEB) September 19, 2018
Pulsafeeder, a global leader in fluid handling technology since 1942, today announced two new appointments in the Houston Area to bolster OEM sales and management initiatives. Industry veteran Michael Bargas joins Pulsafeeder as Sales Director, reporting to Axel Bokiba, and Michael Fontaine joins the company as Sales Account Manager for OEM initiatives, reporting to Michael Bargas.
In his role as Sales Director, Michael Bargas will focus on identifying new opportunities with OEMs. Bargas comes to Pulsafeeder from Weir Minerals North America, a manufacturer of slurry pumps used in the mining, energy and general process industries, where he served as International Sales Director. Previously, Bargas was an area sales manager for Sundyne, a manufacturer of high-speed turbo compressors, and process & general industry pumps. At Sundyne, Bargas worked extensively with distributors, EPCs and OEMs - and he established an impressive track record developing sales forecasts and tracking successful performance.
Newly appointed Sales Account Manager Michael Fontaine will manage and support Pulsafeeder's existing OEMs. Fontaine has accrued extensive business development experience as a strategic buyer for the City of Houston, where he sourced suppliers, evaluated bids, and managed relationships with strategic vendors in the oil & gas and power generation markets. Most recently, Michael served as sales manager for Anvil International, establishing a successful track record with EPCs in the power generation, midstream and downstream sectors, and working directly with customers such as ExxonMobil, Saudi Aramco, Marathon, Chevron, Shell, BP and the United States Department of Defense. Fontaine started his career learning data analysis techniques at Aramco Services Company, and he has also gained operations and procurement experience while working at Cameron International/OneSubsea.
Both executives are based in the Houston area.
"Pulsafeeder's technology is used at many of the biggest power plants, refineries and chemical plants around the globe, and we're thrilled to add two seasoned and talented executives who can add value for the OEMs that play such an instrumental role in these large deployments," said Pulsafeeder's Vice President of Product Management & Business Line Director Axel Bokiba.
To arrange a meeting with either executive, and to learn more about Pulsafeeder's products, visit Pulsafeeder this week at the Turbomachinery & Pump Symposia in Houston (booth #1013), or at the upcoming WEFTEC event in New Orleans (booth #4308), October 1-3.
About Pulsafeeder:
In the early 1940's Pulsafeeder pioneered the hydraulically actuated diaphragm metering pump principle, and the company has been a global leader in fluid handling technology ever since. With experience in multiple industries, including: water & wastewater treatment; chemical & petrochemical processing; oil and gas; refineries, power generation as well as upstream applications, Pulsafeeder's reciprocating and rotary gear pumping technologies meet and exceed the industry requirements for safety, reliability, and precise control. For more information, visit: http://www.pulsa.com.