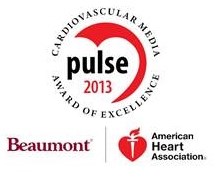 'We find that sponsoring 'Senior Matters' helps us further our corporate commitment to our communities' health,' said AmeriCare Medical president and "Senior Matters" host Gregory Jamian
Royal Oak, MI (PRWEB) November 26, 2013
Bloomfield Township Community Television producer and host Gregory Jamian was honored with the American Heart Association and Beaumont Health System Pulse Award in the Public Affairs Coverage category. His television show, "Senior Matters," was recognized for raising heart disease and stroke awareness in the metro-Detroit communities. The awards presentation took place on Friday, November 22 at Beaumont Hospital, Royal Oak and recognized exceptional individuals in the media fields who are committed to educating the public about heart health.
Jamian has been a favorite among Bloomfield Township Community Television viewers since "Senior Matters" began almost seven years ago. The 30 minute program addresses current issues of importance to senior citizens and baby boomers, with a strong emphasis on health issues and medical advancements. The program is sponsored by AmeriCare Medical, a 33-year old home care company that provides home nursing, durable medical equipment and custom pharmacy services throughout Southeast Michigan. Jamian is the president and CEO of AmeriCare Medical.
"As a public service, AmeriCare Medical volunteers time to raise health awareness in our communities," said Jamian. "Our nursing program is at the front of educating, detecting and monitoring heart disease in our at-risk population. We find that sponsoring 'Senior Matters' helps us further our corporate commitment to our communities' health."
"Senior Matters" has completed over 150 episodes dedicated to educating seniors on coming of age topics. The episodes air four days a week on Comcast Channel 15. Many of the episodes are also available on demand on the Bloomfield Township Community Television website at http://www.bloomfieldtwp.org/.
AmeriCare Medical Inc. is based out of Troy, Michigan and provides specialized home care services to the metro-Detroit Area. AmeriCare Medical Inc. is the parent company of AmeriStaff Nursing Services, Sun Medical Equipment and Rx iV Specialty Pharmacy. For more information, please visit http://www.americaremedical.com/.
# # #
Editor's Note: AmeriCare logo, Pulse Award Logo, Award Photo and Photo of Jamian with Award Attached.