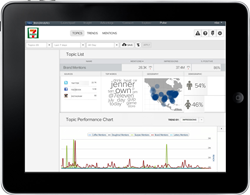 Pulse empowers our customers to go beyond generic social listening to provide an instant social snapshot and recommended responses, customized for their brand. - Kristin Muhlner, nBA CEO
(PRWEB) June 26, 2014
newBrandAnalytics (nBA), the social intelligence expert for consumer-centric businesses, today announced its newest product offering: Pulse. Pulse is cloud-based software that helps newBrandAnalytics customers like McDonald's, David's Bridal, DICK's Sporting Goods and Subway gain real-time visibility into trending topics and conversations that impact their brand and product perception. Social media conversations move at hyper speed – what is trending today will be stale tomorrow. While first-generation social intelligence software provided marketers a glimpse of social conversations, the pace of social data demands more.
Marketers need advanced social listening software that makes it easier to not only gather individual comments and conversations, but to understand trends and react in real-time. nBA prides itself on addressing this market need with Pulse's three definitive features:
1. Early detection and warning system. Pulse automatically sends an alert to identify potential crisis or positive social conversations before they go viral; ensuring you are informed of a topic's momentum without the need to manually monitor your brand's river of social feeds.
2. Volume spike analysis. Pulse takes topic identification one step further by pinpointing trends and annotating the findings to easily share with team members.
3. Ease-of-use and full integration. With its navigable and intuitive dashboard, Pulse is user-friendly and blends into the current nBA product offering, moving from broad social picture to detailed customer experience analysis and internal operational strategy recommendations.
Pulse empowers companies to reallocate time and resources spent on social intelligence. With real-time spike alerts and live annotations, Pulse enables brands to make fast, informed, data-driven decisions – spending more time on response, engagement and all-important customer service. nBA developed Pulse to be brand specific incorporating customizable alerts, intra-day trend tracking, and geo-tagging capabilities.
"newBrandAnalytics' Pulse offering is superior to many other social listening products in the market," said Sherrilynne Starkie, Vice President, Thornley Fallis Communications. "Pulse's integrated platform offers live listening and useful insights through automatic anomaly alerts. This is valuable social information for brands. I am excited to watch newBrandAnalytics as they grow into new markets."
"Across industries, businesses need upgraded social intelligence software that is able to provide real-time, actionable insights and recommendations," said Kristin Muhlner, CEO of newBrandAnalytics. "Pulse empowers our customers to go beyond generic social listening to provide an instant social snapshot and recommended responses, customized for their brand."
Pulse is a part of newBrandAnalytics' software suite. nBA's comprehensive solution set includes Insight, which offers local-level insights and online reputation management; Advantage, which focuses on social competitive intelligence and leveraging social analysis to beat your competitors; Connect, which is a platform for strategic and credible online engagement; and Instant, which provides real-time customer-reported issue monitoring. Pulse will be available to brands starting in July.
About newBrandAnalytics
newBrandAnalytics delivers social customer relationship management solutions that help companies win – and keep – market share while improving overall operational performance. newBrandAnalytics' unique approach extracts targeted, local insights from unstructured social media and survey data, pinpointing specific ways your company can meet and exceed customer expectations to create lifelong brand evangelists. The company serves clients across retail, food and beverage, hospitality, entertainment, health care and government industries, including DICK's Sporting Goods, Conn's Inc., Five Guys, Darden, Hyatt, Interstate Hotels, Consulate Healthcare, the District of Columbia and many more. To learn more, please visit http://www.newbrandanalytics.com or @nBrandAnalytics.