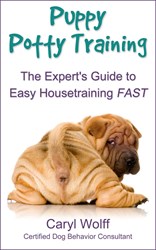 Wolff has authored five other books, manages seven websites, and offers dog-training consultations.
Los Angeles, CA (PRWEB) October 01, 2013
Everyone loves a cuddly new puppy, but potty-training the little ones can be a difficult and frustrating task. In early September, a new experience-based book transformed the puppy training landscape by offering a clear, comprehensive evaluation of training methods. Upbeat, humorous, and enjoyable to read, "Puppy Potty Training: The Expert's Guide to Easy Housetraining FAST" is a go-to manual for anyone trying to alleviate the pressures of puppy training.
In the book, author Caryl Wolff, a certified dog behavior consultant, shares the knowledge she has gained from over 20 years of experience in the field. "Distilling nearly two decades of experience into written form was a challenge," says Wolff, "But I knew that a book was the best way to reach out and help as many puppy owners as possible."
Wolff has authored five other books, manages seven websites, and offers dog-training consultations (in person or on the telephone) in which she works with dog owners and their pets on specific issues. (http://www.puppy-dog-potty-training.com)
According to the Fresh Patch Company--maker of indoor real-grass disposable dog potties--Caryl Wolff's new book charts a path to successful puppy training. Company President Andrew Feld is recommending the book to all his customers because it provides a comprehensive overview of various training methods, along with their pros and cons. "That way, owners of new puppies can make well-informed decisions about the best approaches for their specific needs and circumstances," says Feld.
Feld notes that the book conveys a thorough understanding and appreciation of dog behavior while it takes owners through various "what if" situations, and recommends practical ways to deal with them. For example, Wolff provides a list of signals that pups may give when they need to relieve themselves, as well as disruptions from routines that can cause bathroom problems. Wolff underscores the importance of consistency in language and action when training a pup. Although the book is intended for puppy owners, Feld says that it also provides many general insights about human-dog interactions that all dog owners can find useful. The new book is currently available in digital form on Amazon.