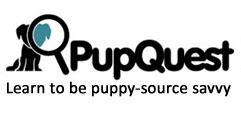 The worst place to purchase a puppy isn't a place at all. It's cyberspace. - Lorna Grande, DVM
Pittsfield, MA (PRWEB) March 19, 2014
No law in the country prevents puppy-mill operators from selling sick and unsocialized dogs via the Internet to unsuspecting families. One veterinarian however, has launched a website to help dog lovers distinguish between reputable breeders and unethical ones.
Lorna Grande, DVM has unleashed PupQuest.org, an online resource that helps visitors identify reputable dog breeders and reveals those who engage in careless breeding. Not sure where that cute dog you saw online came from? PupQuest.org breaks down the difference.
"The worst place to purchase a puppy isn't a place at all. It's cyberspace," says Lorna Grande. "The Internet has created a new avenue for unsavory breeders to directly reach unsuspecting consumers. Hundreds of thousands of puppies are purchased sight-unseen online every year. This creates suffering and hardship for dogs and families."
For years, animal advocates have worked to dissuade people from dealing with pet shops and disreputable breeders.
PupQuest provides consumers with unapologetic information on popular puppy sources: the Internet, "breeders," pet shops, shelters, and rescues. Those looking to buy or adopt a puppy will find honest tips on what to look for in a puppy source.
Puppy farms and other disreputable "breeders" often maintain fancy websites designed to appear trustworthy and knowledgeable. PupQuest also warns of buying dogs from a pet shop.
"What's the best thing to look for in a pet shop? The EXIT," Grande advises. "What's the number one step when purchasing a puppy? Visit the location where the puppy was born and raised. NEVER buy a puppy sight unseen." What about adoption? "Meeting the dog in person before committing to adopting is critical," warns Grande.
http://www.PupQuest.org addresses simple but often-overlooked steps to find a healthy pet from a reputable source. Even shelters and rescues can deceive, and signs of reputable and less-savory organizations are listed on the website for potential adopters. PupQuest also features resources to help veterinarians and shelter professionals educate clients on getting their next puppy.
Lorna Grande encourages anyone interesting in purchasing a puppy to visit http://www.PupQuest.org to learn about how to find a healthy pet from a reputable location.
For more information, visit the PupQuest website at http://www.PupQuest.org.