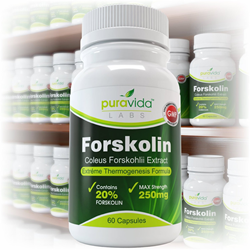 Our Forskolin supplement is manufactured using the highest industry standards.
Victor, NY (PRWEB) June 05, 2014
Forskolin is a natural extract that has been credited as an effective fat loss aid that soared to popularity when it was endorsed by a well-known television doctor recently. This week, PuraVida Labs, a natural supplement company, has released its Forskolin Extreme Thermogenesis Formula on Amazon.
Company co-founder Paul Harvey explains, "Our Forskolin Extreme Thermogenesis Formula supplement works in 3 ways. It Improves lipolysis (fat breakdown), boosts metabolism and thyroid function to help you to not only burn the fat you already have, but to prevent your body from storing additional fat in the future."
PuraVida Labs is marking the product release by donating a portion of its sales to breast cancer research. Paul Harvey explains that the donation to breast cancer is a natural extension of the company's commitment to better health through natural supplementation.
"When I founded PuraVida Labs, my purpose was to create supplements using only the purest, highest-quality ingredients so that people can improve their health and their longevity," he says. When asked why he is so passionate about natural supplements, he says, "Several years ago, I was diagnosed with Multiple Sclerosis. I started PuraVida Labs for rather selfish reasons, at least initially! I began to examine how I could improve my health and well-being. That led me on my own personal health quest, that eventually led to forming my own health food supplements company called PuraVida Labs."
"Our Forskolin supplement is manufactured using the highest industry standards. We also are taking a more scientific approach to educating our customers about what our supplements can do for them, without all the hype," says Harvey.
Paul Harvey explains that his company's determination to provide the highest quality product in as natural a form as possible is what led them to create a Forskolin supplement using the purest pharmaceutical grade 20% Forskolin and that is vegetarian and non-GMO. The supplement is only manufactured in GMP certified and FDA registered facility.
Harvey says the company's commitment to supporting their customers' healthy lifestyles doesn't end there. The company has a nutritionist on staff to answer customer questions and provide email support free of charge. PuraVida Labs also stands behind their product by offering customers a 100%, no questions asked money-back guarantee. The company extends that guarantee for a full year after purchase which is relatively unheard of in the supplement industry.
"People's health is not a light matter to me. If you're going to provide a health supplement to your customers, you should be willing to stand behind it without any reservations," says Harvey.
In addition to donating a portion of the proceeds to fighting breast cancer, PuraVida is also offering new customers a limited-time 25% off coupon when they order three bottles and use coupon code PURAVIDA at checkout.
PuraVida Forskolin Extreme Thermogenesis is being sold exclusively through Amazon and has already generated an impressive word-of-mouth campaign thanks to its five-star ratings and glowing reviews.
We're thrilled with the reception that the product has been given," says Harvey. "We're also thrilled to be able to provide such a high-quality Forskolin supplement and support the fight against breast cancer at the same time by dontating a portion of all sales to several charities."