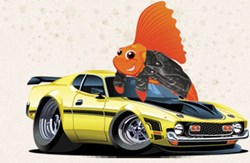 New York, NY (PRWEB) September 27, 2013
RoadFish.com senses that with the U.S. economic recession on the decline and consumers feeling more confident with their financial condition, U.S. citizens might be on the market for purchasing property, both locally and abroad, once again. Harvey Jones of The Guardian/The Observer wrote in "Beware Buying Property Abroad" (Published August 10) that Spain's mortgage rates and property prices are very appealing right now, with home prices dropping 50% in the past six years. Websites like TerceroB.com confirm the great property value prices.
Despite the tempting prices, RoadFish.com men's lifestyle and finance magazine cautions Americans against fulfilling their foreign property dream too hastily, as Jones' Guardian article points out that many people who purchased homes in countries like Cyprus and Spain before the recession are currently locked in legal battles over the planning permissions and other construction legalities. Jones reported that many of these people face having their vacation home demolished, and some are even at risk for losing their original home over costly legal battles.
Journalist Harvey Jones suggested in the above-mentioned article, "Buyers should do careful research and take independent legal advice if they are to avoid getting burned, as many Britons can testify." He quotes Attorney Stefano Lucatello, a senior partner at a British law firm that works with clients in purchasing foreign property, as saying, "You need somebody who understands the law of your chosen country, and speaks the language fluently. Don't use somebody recommended by your developer or estate agent, they may not have your best interests at heart."
RoadFish.com's Senior staff writer is quoted as saying, "They say that those who don't learn about history are doomed to repeat it. We are big advocates of our readers pursuing their dreams of owning vacation homes, winter cabins, and certainly following their vision of purchasing property abroad if that's where their heart leads them. But after recent reports of the disasters that many foreign property purchasers are sharing, we believe it's critical to really put in due diligence before taking the plunge. Don't get so caught up in the excitement of owning an exotic Spanish villa that you put yourself at risk for getting swindled later on down the road."
About RoadFish.com:
RoadFish.com is an online men's lifestyle and finance magazine designed to keep men in their 30's and 40's informed on the latest luxury items, dating advice, and travel recommendations.