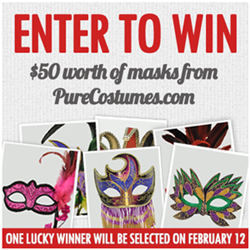 Los Angeles, CA (PRWEB) February 04, 2014
With Mardi Gras celebrations commencing in just a few weeks, online costumes and accessories retailer PureCostumes.com has decided to host a contest to promote its Mardi Gras costumes and masks. Utilizing the popular social media platform, Pinterest, participants will be able to "pin" their favorite Mardi Gras and masquerade masks for a chance to win $50 worth of masks from PureCostumes.com. Many customers are already shopping and browsing for their Mardi Gras outfits and in order to take full advantage of the opportunity, the company is using this promotion to expand awareness of its vast selection. PureCostumes.com is hosting the contest to not only aid participants in their search for the perfect Mardi Gras costume or mask, but to give its fans and followers the opportunity to win them for free.
The contest is scheduled to run from February 5 to February 12, 2014. To enter, contestants must first follow Pure Costumes on Pinterest. Once they have done so, they will be able to either "pin" or "repin" their favorite masks from PureCostumes.com onto their contest board. Finally, participants can submit their final contest board by accessing the contest tab on Pure Costume's Facebook page to complete the sweepstakes form. Although only one submission is allowed per person, contestants will be able to earn extra entries by inviting Facebook friends to participate through their uniquely generated referral link. Once the contest period has ended, one winner will be selected at random and notified by email.
Since Mardi Gras is such a widely celebrated event in the United States, PureCostumes.com expects to generate much interest with its newest contest. The contest is not only a great way to connect with its customer base; it will likely also garner more traffic by introducing Pinterest users to the Pure Costumes' Halloween costumes website. By using social media to engage with its customers, PureCostumes.com is taking a great step to continued growth and popularity in the Halloween industry.
About Pure Costumes
Pure Costumes is one of the Halloween industry's most popular online costume retailers. Available year-round, the website carries a large selection of Halloween costumes for adults, plus size adults, toddlers, children, teens and pre-teens/tweens. Along with costumes, the online retailer also offers an impressive catalog of costume accessories (here), wigs, masquerade masks, and shoes. Pure Costumes prides itself on its excellent customer service and extensive experience in the industry. Its goal is to bring to its customers the best online Halloween costumes shopping experience possible. As a site with one of the highest return customers year after year, Pure Costumes takes pride in being an industry leader. For more information, please visit http://www.purecostumes.com.