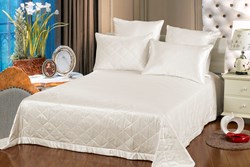 Hope to help customers enjoy a wonderful time with our high quality silk coverlets.
West Palm Beach, FL (PRWEB) September 12, 2013
A coverlet is a fabric covering spread, usually for a bed. Are there any other functions of coverlets? Lilysilk.com, as a popular provider and retailer of luxurious silk bedding and related accessories for many years, announces coverlets' another use today. Coverlets on their website are specially designed for cold weather, and now available at discounted prices, up to 50% off.
Coverlets from Lilysilk.com are exquisitely crafted from superb quality fabrics, which are filled with pure mulberry silk floss. Their aim is to offer the best quality silk products to customers home and abroad. According to Mike Lee, CEO of the company, they have already received a lot of positive comments from their customers.
"We hope to help customers enjoy a wonderful time with our high quality silk coverlets. These silk coverlets can be used as a bed protective cover, and also can be a blanket for Autumn, as well as an additional warm layer for Winter... Before making a decision to buy our silk coverlet, it is a good idea to check out our website, and see what others say about them," Mike says confidently.
Lilysilk is devoted to designing and manufacturing innovative silk bedding technology to stay ahead of fashion trends and health care. The designers of Lilysilk will continue to make their efforts to tailor silk bedding and silk comforters with stylish patterns for their customers.
About Lilysilk
Lilysilk.com is known as one of the largest silk manufacturers and retailers in China, which is offering a full range of silk bedding, including silk sheets, silk bedding set, duvets and comforters, silk pillows and pillowcases. Lilysilk.com is a good place to pick up gifts for special occasions, such as Christmas, Birthday, Anniversaries, and so on.
For more information, please visit: http://www.lilysilk.com.