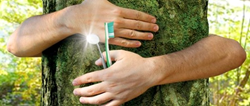 "As a dental dealer, one of our primary environmental impacts comes from the shipping of products. We offset our carbon emissions because it's material to our business and allows us to have an immediate impact on environmental health," CEO Rodney Hanoon
Santa Monica, CA (PRWEB) April 21, 2014
Since its launch in 2009, PureLife Dental has offset its carbon emissions as part of its ongoing commitment to improving environmental and human health. Now, five years later, those offsets have really added up: PureLife has offset 6,126 metric tons of carbon dioxide (CO2) – the equivalent of planting over 157,000 trees, and letting them grow for ten years.
PureLife's offsets cover 100% of the emissions generated by the company's office and warehouse operations, from business travel and energy use to employees' own personal commutes. PureLife also offsets all of the carbon emissions from the transportation and delivery of its products, from the manufacturing line to the customer's door. In short, every product a dental office buys from PureLife comes with an improved eco impact.
"Though we're announcing this achievement as part of our Earth Day celebration, PureLife works to reduce the dental industry's environmental impact every day, not just on Earth Day," said PureLife CEO Rodney Hanoon. "As a dental dealer, one of our primary environmental impacts comes from the shipping of products around the world. That's why we feel that offsetting our carbon emissions is such an important part of what we do – it's material to our business and allows us to have an immediate impact on environmental health."
PureLife partners with the non-profit CarbonFund.org for its offsetting program. The money from these offsets funds environmental programs, like reforestation projects, which help to reduce the amount of carbon dioxide in the atmosphere. All of CarbonFund's projects are subject to third-party certification standards, verification and auditing – processes that ensure only high-quality carbon offset projects that are making real carbon emission reductions are funded. CarbonFund's projects are also additional to what would have occurred without the sale of offsets, a key factor in determining the credibility of carbon offset projects.
PureLife's 6,126 metric tons of CO2 offset are also the equivalent of:

686,771 gallons of gas consumed
255,250 propane cylinders used for barbecues
2,294 tons of waste sent to landfills vs. recycled
14,585,714 miles/year driven by an average passenger vehicle
6,580,021 pounds of coal burned