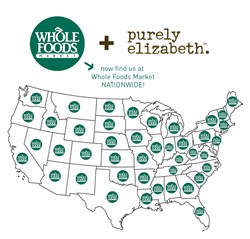 New York, NY (PRWEB) August 28, 2013
Purely Elizabeth (http://www.purelyelizabeth.com) today announced that their line of Ancient Grain Granola is now available nationwide at Whole Foods Market, a world leader in natural and organic foods. The expansion into all 11 regions follows a strong increase in consumer demand, and subsequently an increase in sales, of Purely Elizabeth granola in the seven regions where it had previously been distributed.
"We are thrilled that our Ancient Grain Granolas have been such a huge hit with Whole Foods customers and will now be available in all Whole Foods Markets nationwide," said Elizabeth Stein, founder and CEO of Purely Elizabeth. "Whole Foods has been a wonderful retail partner from day one, and their commitment to excellence falls right in line with our values as a company."
Baked by hand in small batches, Purely Elizabeth's Ancient Grain Granolas are free of refined sugar and use all-natural and organic ingredients, certified gluten-free oats and ancient seeds and grains that offer a unique texture, including Salba chia seeds, puffed amaranth and quinoa flakes. These ancient grains have excellent health properties that add to the nutritional benefit of Purely Elizabeth's granola, which is available in four flavors – original, cranberry pecan, pumpkin fig and blueberry hemp.
Additionally, instead of the typical bad-for-you oils and sweeteners found in most granolas in the marketplace, all four flavors are made with organic coconut palm sugar, an unrefined, nutrient-rich, low-glycemic sweetener, and organic raw virgin coconut oil. Unlike other fats, unrefined coconut oil is high in medium-chain fatty acids that aid in weight loss, lower cholesterol, improve diabetic conditions and reduce the risk of heart disease.
For more information on Purely Elizabeth, please visit http://www.purelyelizabeth.com.
About Purely Elizabeth:
Purely Elizabeth is a natural foods company committed to healthy eating, healthy living and a healthy planet. Purely Elizabeth was founded in 2009 by certified holistic nutrition counselor Elizabeth Stein, who was looking to fill a gap in the gluten free market for healthier products. Today, Purely Elizabeth is distributed nationwide in retailers including Whole Foods Market, The Fresh Market, Earth Fare, New Seasons, Dean & Deluca, Fairway, Central Market and Wegmans.
As a member of 1% for the Planet, Purely Elizabeth donates one percent of its revenue to environmental causes. For more information about Purely Elizabeth, visit: http://www.purelyelizabeth.com or follow us on Facebook at http://www.facebook.com/purelyelizabeth and Twitter @purelyelizabeth.