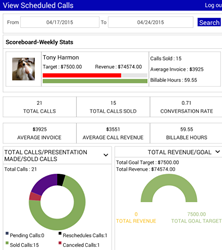 With The OptionMaker App the science of options is now at your fingertips in the field
Los Angeles, CA (PRWEB) October 13, 2015
Pure Motive Service today announced that its service contractor app The OptionMaker was selected as one of the best apps by ThePlumbingInfo.com, a leading industry news source.
In giving the award, The PlumbingInfo.com highlighted The OptionMaker's revenue-boosting feature: "After looking at the customers problem, the service tech can look through The OptionMaker to look at similar scenarios and build luxury, mid-range and budget options for the repair," ThePlumbingInfo noted in the award.
"We're very pleased to have won this award for The OptionMaker app," said Joe Crisara of Pure Motive Service. "As pioneers in the use of the science of options in the service industry we've seen firsthand how it can increase revenue from the same amount of calls. As operators and coaches to thousands of contractors, we've seen average sales calls jump more than 50% in revenue, sometimes even triple."
With 30 years experience behind it, with The OptionMaker app contractors can use handy templates and tap into the science of options and have several options for the customer right on a tablet or smartphone. Available on iOS, Android and the web, The OptionMaker app has several powerful features including:
+OptionMaker App - Builds luxury, mid-range and economy client options
+Option Sheet Templates - Create user & company option templates as a starting point
+Price Import-Export - Import your current flat rate files or use ours
+Custom Price Builder - Build custom options & prices "on-the-fly" for new services you offer
+Verbal Packaging - Customize and personalize solutions using client names in your options
+Info Button - Provides technical info on options like part numbers and job standards for techs
+Financing Options - Include monthly or delayed payment financing options as you wish
+3-Week Orientation Training - Your techs learn how to offer on-code options for your clients
+Insta-Coach Text Feature - Informs managers of "yellow lights" as they happen
+Audio Recorder - Record and listen to audio presentations for training purposes
+Invoice Generator - Emails option sheet with invoice to dispatch as call is completed
+Tech Results Dashboard - Your people see their progress and growth in real-time
+Company Results Dashboard - See closing rate, average invoice and more update in real-time
+Integration with Quickbooks
+Includes Best Ever Flat Rate Guide
+API for other software platforms to be able to integrate The OptionMaker into their software
Contractors using the app are reporting benefits, from sales increases to customer satisfaction.
"On one sale alone I went from $119.95 tune up to a 5 year service plan, 5 year warranty and all recommended repairs." said George Childers, owner of Complete Comfort Solutions, an HVAC contractor in Spartanburg, South Carolina.
A plumbing company had this to say about The OptionMaker app:
"Not only has the quality of our solutions sky rocketed, my staff has shown consistent improvement with their revenue as well. Most importantly, our customer service has improved exponentially," said David Mendenhall of Tri-M Plumbing in Vancouver, British Columbia.
To learn more about The OptionMaker app please see http://www.theoptionmaker.com/ or call toll-free 877-764-6304 to schedule a brief demo.
About the company: Pure Motive Service is the pioneer in using the science of options in the service industry. The company offers sales and software solutions for plumbers, electricians, HVAC technicians and other service contractors, including apps, websites, sales training and virtual coaching. Mention 'PRWeb' and receive 20% off app setup fee.