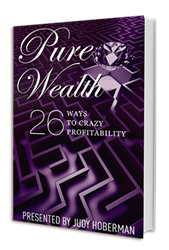 PURE WEALTH is a perfect example of how a network of women can give back through an anthology of ideas.
Irving, TX (PRWEB) June 11, 2014
Passion, purpose and profitability are oftentimes the central point of all goals. To learn ones purpose and achieve it with passion while resulting in profitability is a hugely fulfilling position in life. The steps to get to this point are long sought after, and vary dependent on the individual relaying the answer. Pure Wealth: 26 Way to Crazy Profitability is the latest book created to assist in this journey, however it is written in Anthology format which gives the reader 26 individual chapters to study the insights of these knowledgeable women.
Pure Wealth is led by Judy Hoberman, an entrepreneur with over 30 years of experience in the sales side of business, who is continually finding new ways to teach others about creating their own success in business and in life. Accompanying Ms. Hoberman in this breakout novel are 25 other women who are all thought leaders in their industries. Among this prestigious list readers will learn from authors, doctors, a former parole officer, a CFP, direct sales individuals, and more; all of whom have proven and unique methods to aid in achieving crazy profitability.
Each chapter within Pure Wealth has a different focus, or method, to accomplishing business and life aspirations. Writing to readers through their individual chapters are, Judy Hoberman, Amy Applebaum, Joan Arciero, Elizabeth Basden, Nickey Baxter, Pamela Brown-Matthis, Caryn Chow, Melinda Cooper, Nancy Cramer, Patty Farmer, Alexis Gladstone, Gail B. Goodman, Maryam Habashi, Cheryl Lenamon, Debbie Leoni, S. Michelle Mathis, Sherry Mirshahi-Totten, Sue Moore, Elizabeth Naylor, Jayne Rios, Linda Schwader, Shannon Hrobak Sennefelder, Linda Shaffer-Vanaria, Esther Spina, Patricia J. Sulak, M.D., and Shauna Weatherspoon. Solo biographies on each of the authors can be found at http://www.purewealthbook.com/meet-the-authors/.
Pure Wealth is launching Tuesday, July 1st, 2014 through Next Century Publishing. However, select pre-launch access to the book is available at the Pure Wealth Book Event on June 28th, 2014. In Irving, TX at the Las Colinas Country Club guests will be collected for an exquisite seminar, book signing and launch event. Attendees will receive access to the insightful teachings from Pure Wealth's authors through their solo speeches in the Las Colinas conference room. Guests will have the opportunity to purchase the book on sight and have the authors personally sign their copy. An exquisite lunch will be served in the Grand Ballroom with time to meet with the authors as well as mingle and network with other dynamic individuals. Tickets can be purchased at http://www.purewealthbook.com/shop/ and for a limited time each ticket purchase will receive a complimentary copy of the 2-DVD Edition of the entire event, valued at $99, for free. The first 25 tickets purchased will also receive a coaching session with Ken Dunn, author of The Greatest Prospector in the World, on the art of sales and prospecting.
About Pure Wealth:
The Pure Wealth Anthology is a compilation of some of the best information available today for business owners who want to build profitability and grow their companies successfully. Pure Wealth condenses the wisdom of dozens of experts into one enjoyable and easy-to-read book that speaks to everyone.