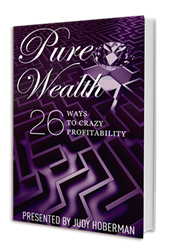 My greatest successes have always been when I started something from the ground floor.
(PRWEB) June 06, 2014
Profitability is the ability of a business to stay afloat. In today's competitive market, profitability is not only desirable but essential. A business that is not profitable will not survive, so it is critical for business owners to understand how to generate profitability. The best way to do so is to turn individual passion for a particular purpose into profits for the business, and PURE WEALTH: 26 Ways to Crazy Profitability can help business owners by sharing the wisdom of those who have already put their dreams to work.
In this incredible anthology headed up by Judy Hoberman, 26 authors share ideas and expertise as well as stories on a variety of topics that speak to the individual business owner who is trying to bring passion back to business. Entrepreneurs will find something they can relate to as these authors share the ways they bring deeper purpose to businesses.
Business owners can focus on the chapters that speak to them and enjoy the advice from experts that guide them to Crazy Profitability. Each of these authors have backgrounds in marketing, sales or leadership and can focus on the specifics of almost any type of company to help owners succeed.
However, the authors do not simply focus on profits but also on the connection between human issues and business. Topics such as fear, relationships, communication and health are included, making this one of the most complete business books on the market. PURE WEALTH: 26 Ways to Crazy Profitability will give business owners the key to financial success as well as happiness in any endeavor.
A group of the authors will be speaking at a seminar and book signing held at the Las Colinas Country Club, located at 4400 North O'Connor Road, Irving, Texas, on June 28, 2014. Next Century Publishing is launching the book and will provide opportunities to purchase the book, have the authors sign copies and enjoy a delicious lunch in the Grand Ballroom while meeting the authors in person.
Those who purchase a ticket to the PURE WEALTH Book Launch Event in advance by visiting http://www.purewealthbook.com/ will receive a complimentary copy of the two-DVD edition of the entire event. This gift is valued at $99 but is offered for free to early purchasers. The first 25 tickets purchased will also receive a private session with Ken Dunn on prospecting. Tickets will only be available through the web site.
About PURE WEALTH:
The PURE WEALTH Anthology is a compilation of some of the best information available today for business owners who want to build profitability and grow their companies successfully. PURE WEALTH condenses the wisdom of dozens of experts into one enjoyable and easy-to-read book that speaks to everyone.
About Next Century Publishing:
Next Century Publishing is a company devoted to helping self-publishing authors as well as established writers and experts. NCP offers publishing, editing and support to its authors as well as advanced marketing techniques that help writers promote their books.