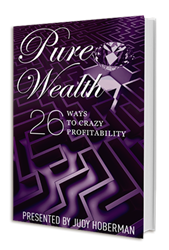 A DVD of the event, a free copy of PURE WEALTH, lunch, and Las Colinas Country Club for $49, what more is there to think about?
Irving, TX (PRWEB) June 25, 2014
The much-awaited anthology PURE WEALTH: 26 Ways to Crazy Profitability will be showcased by Next Century Publishing on June 28, 2014 at a special pre-launch event. The 26 contributing authors will be in attendance to share their insights on bringing profitability to any business by harnessing personal passion and drive and turning it into customers and traffic at the PURE WEALTH Event at Las Colinas Country Club the last Saturday in June.
These authors have already put into practice the wisdom they bring to this new book. Each of them are entrepreneurs who have built successful businesses on their own by applying the principles they share in PURE WEALTH. With drive, determination and deep purpose, these individuals have been able to put their own creativity and energy to work to make their businesses successful. They now share their secrets with the rest of the world.
The authors contributing to the book come from all walks of life and include: Judy Hoberman, Amy Applebaum, Joan Arciero, Elizabeth Basden, Nickey Baxter, Pamela Brown-Matthis, Caryn Chow, Melinda Cooper, Nancy Cramer, Patty Farmer, Alexis Gladstone, Gail B. Goodman, Maryam Habashi, Cheryl Lenamon, Debbie Leoni, S. Michelle Mathis, Sherry Mirshahi-Totten, Sue Moore, Elizabeth Naylor, Jayne Rios, Linda Schwader, Shannon Hrobak Sennefelder, Linda Shaffer-Vanaria, Esther Spina, Patricia J. Sulak, M.D., and Shauna Weatherspoon. These inspiring authors are excited to speak at the event and for the exclusive pre-launch book signing; the novel will be available to those not in attendance on July 1st, 2014 through online stores such as http://www.NextCenturyStore.com.
The authors can be heard at the book signing and seminar to be held on June 28, 2014 at the Las Colinas Country Club at 4400 North O'Connor Road, Irving, Texas. Next Century Publishing, the company launching the book, will provide opportunities to have the authors sign copies at the seminar. Tickets can be purchased by visiting http://www.purewealthbook.com/; all pre-purchases will also receive a complimentary copy of the two-DVD edition of the event, and a free copy of the PURE WEALTH book. Says Hoberman, "A DVD of the event, a free copy of PURE WEALTH, lunch, and Las Colinas Country Club for $49, what more is there to think about?"
About Pure Wealth:
Pure Wealth is headed by Judy Hoberman. Ms. Hoberman is an entrepreneur who has been working in sales for more than 30 years and is always seeking new ways to teach others about business success. Along with Ms. Hoberman, 25 other successful businesswomen, including authors, doctors, company founders, marketing professionals, and others, share their profitability secrets. The author biographies can be seen at http://www.purewealthbook.com/meet-the-authors/.