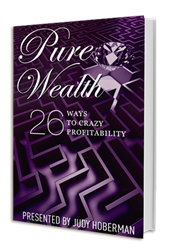 If you do not do something now, where will you be next year at this time? How badly do you want things to change?
Irving, TX (PRWEB) June 18, 2014
Pure Wealth is an anthology of 26 different voices all speaking on the topic of prosperity; because these voices all take a slightly different approach to the topic of profits, there is something in this collection for everyone. However, the basic message of all contributors is the same: Now is the time to act in order to take profits to the next level.
Creator Judy Hoberman asks a simple question of all business owners: "If you do not do something now, where will you be next year at this time? How badly do you want things to change?"
The answers to these questions will, in large part, determine how receptive business owners are to the message in Pure Wealth, as seen at http://www.purewealthbook.com/. A compendium of the best of business advice and knowledge by some of today's leading success stories, this book offers help for entrepreneurs to take their finances, health, relationships and overall destiny into their own hands and experience crazy profitability in all areas.
Pure Wealth will meet the public in an exclusive book launch event on June 28th, 2014, at the Las Colinas Country Club in Irving, Texas, with help from Next Century Publishing. The Pure Wealth launch will feature a book signing, seminar and chance to meet and hear the authors speak. For everyone who purchases tickets to the event at http://www.purewealthbook.com/shop/, a complimentary copy of the 2-DVD edition of the entire event, valued at $99, will be included for free, as well as a free copy of the Pure Wealth book itself.
Pure Wealth includes information that promises to help almost anyone running a business, whether a veteran business owner or a rookie, with the help of 26 multi-talented authors including: Judy Hoberman, Amy Applebaum, Joan Arciero, Elizabeth Basden, Nickey Baxter, Pamela Brown-Matthis, Caryn Chow, Melinda Cooper, Nancy Cramer, Patty Farmer, Alexis Gladstone, Gail B. Goodman, Maryam Habashi, Cheryl Lenamon, Debbie Leoni, S. Michelle Mathis, Sherry Mirshahi-Totten, Sue Moore, Elizabeth Naylor, Jayne Rios, Linda Schwader, Shannon Hrobak Sennefelder, Linda Shaffer-Vanaria, Esther Spina, Patricia J. Sulak, M.D., and Shauna Weatherspoon.
About Pure Wealth:
Pure Wealth is headed by Judy Hoberman. Ms. Hoberman is an entrepreneur who has been working in sales for more than 30 years and is always seeking new ways to teach others about business success. Along with Ms. Hoberman, 25 other successful businesswomen, including authors, doctors, company founders, marketing professionals, and others, share their profitability secrets. The author biographies can be seen at http://www.purewealthbook.com/meet-the-authors/.