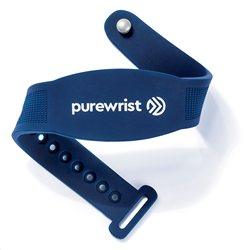 NEW YORK (PRWEB) October 19, 2018
Purewrist®, makers of a contactless payment and OEM transaction wristband, today announced the global commercial availability of its secure EMV-compliant, white-label payment platform, which recently received full certification from MasterCard. The wristband is based on NXP® Semiconductor's SmartMX® platform for highly secure and fast data transactions with billions of ICs serving banks and government program around the world. Additionally with NXP's MIFARE DESFire® solution, the wristbands can enable simple, secure access control, ticketing, public transportation, and brand loyalty.
The letter of approval (LoA) from MasterCard (MC) certifies the purewrist NFC contactless solution is fully CSI-compliant with Mastercard, enabling its use with M/Chip advance payment applications in any current EMV-based contactless payment transaction.
The Secure Technology Alliance reports a growing acceptance of contactless payment, with more than 30 percent of point-of-sales (POS) terminals internationally now supporting EMV contactless payment.
"Until now if a payment transaction stakeholder wanted an alternative contactless payment or transaction solution, their brand identity – and access to valuable customer relationships – was hidden behind another branded payment device like a smart watch or third-party payment wallet," said Ari Gardiner, co-founder of purewrist, a New York-based company. "The brand ID on our purewrist payment and transaction bracelets is 'owned' by the issuing company with their name, tag line or slogan molded onto the secure, easy-to-use, fashionable and comfortable silicone wristband."
The purewrist platform presents several key technology and deployment benefits:

Passive NFC/RFID and battery free.
Secure, meeting EMVCo and ISO 14443 standards.
Waterproof, with SGS-certified materials.
Universal EMV interoperability.
Easily integrated into existing secure transaction platforms and equipment.
Hosting dual EMV and MIFARE technologies.
Easy-to-design form factor for any wearable or tag application.
Secure and easy personalization for quick issuing.
Affordable with a complete solution at a target base price comparable to EMV contactless / dual interface cards.
Purewrist was founded in 2013 and brings years of operational experience to its customers. The company has been instrumental in many pilots across the world and is a pioneer in creating secure contactless wearable transaction solutions. "We enable banks and financial institutions and transit authorities across the globe, including current programs in Europe, Latin America, and launching India.," continued Gardiner. "We developed purewrist strategically to plug into existing universal processes and to help bridge the gaps in delivering customized solutions."
EMV Contactless standards, mandated by the EMVCo consortium to be fully available on all EMV transaction systems, offers the same EMV cryptographic capabilities for stronger authentication and security compared to traditional magnetic-stripe cards. Purewrist leverages NXP solutions to provide this key security and encryption technology for its certified product.
"Payment solutions powered and secured by NXP are paving way for convenient experiences like contactless cashless payment and ticketless access at stadiums, trains and buses," said Alasdair Ross, head of marketing for payments at NXP. "We are happy to collaborate with companies like purewrist who support our vision to bring secure, convenient and fast payment through multiple form factors around the globe."
For more information please see the Purewrist website, or email welcome@purewrist.com
# # #
References:
(1) Secure Tech Alliance – Information on Growth of Contactless EMV Point of Sales Installations
Company Information:
Purewrist® is a leading developer and system provider of NFC/RFID payment and transaction wearable technology offering both full EMV security and interoperability for the banking, retailing, hospitality, event venue ticketing, access control and customer loyalty industries.
Contact: Roger Bridgeman
Bridgeman Communications for Purewrist
Roger@Bridgeman.com
(o) 617-742-7270
(m) 781-223-4895