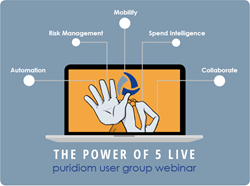 The decision to run the event as a webcast came down to making the event accessible to all of our clients
Camp Hill, PA (PRWEB) May 31, 2016
Puridiom, a leading procure-to-pay solution provider, went live with a 2-day webcast of their Power of Five Live User Group. The live event enabled clients from all countries to participate and benefit from sessions ranging from procurement best practices to solution-specific features and updates.
The Enterprise Procure-to-Pay solution provider traditionally holds their User Group event at a physical location, but opted this year to "go live" and reach out to clients that would have difficulty traveling long distance for a 2-day event, or did not have budget allocated. "The decision to run the event as a webcast came down to making the event accessible to all of our clients," said Cindy Cornman, Marketing Coordinator for the event. "Even clients that could not attend the live event have access to all content as long as they registered."
The Power of Five Live sessions focused on five procurement powers that are essential to procurement success: Automation, Mobility, Supplier & Risk Management, Business Intelligence, and Collaboration. In addition, feature-specific and release updates were demonstrated. A unique feature of the conference was the availability of mobile apps for hands-on demonstrations. Puridiom also introduced a new Procurement-as-a-Service program: Puridiom Profit Growth Value that provides mid-size organizations with the tools and plans to improve profit, accelerate growth and increase value.
Feedback has been positive and Puridiom anticipates following up with an even bigger event next year.