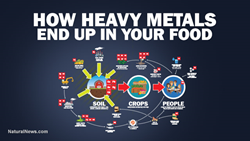 We Are the Industry Leader in Pristine Water Purification Systems
(PRWEB) April 14, 2016
PristineHydro™ (http://livepristine.com/how-heavy-metals-end-up-in-your-food/) has always been genuinely concerned about the health of the population. Many have probably heard food companies and nutritional supplement manufacturers claim that high levels of lead found in their products is "naturally occurring."
The truth is that high levels of toxic heavy metals show up in foods, superfoods and supplements due to industrial pollution… including decades of spraying lead arsenate on croplands.
PristineHydro™ is offering industry tips by releasing a new infographic that reveals the cycle of heavy metals in food and the environment. Click here for the full infographic.
As this infographic and video both reveal, toxic heavy metals enter the food supply from contaminated soils, and soils are contaminated from a multitude of sources, including:

Dental offices (mercury)
Coal power (mercury)
Pesticides (lead and arsenic)
Mining operations (copper, nickel, lead, etc.)
Human waste that's recycled by cities into "biosolids" used on crops
Contaminated municipal water pipes (lead)
Chicken feed that's "medicated" with arsenic
There are many more contaminants found in the water that is being consumed. Learn more about PristineHydro's™ 10 Stage Process Water Revival System and begin removing these harmful contaminants from drinking water.
Stage One - 5 Micron Filter
Stage Two - KDF
Stage Three - Hydroxy Apatite
Stage Four - Coconut Based, Acid-Washed, Surface-Enhanced Activated Carbon
Stage Five - Reverse Osmosis
Stage Six and Seven - Dual Deionization Cartridges
Stage Eight - Re-Mineralization Cartridge
Stage Nine - Coconut Carbon Filter
Stage Ten - Vortex / Reprogramming / Recharging
Pristine Water Filters delivers to the following geographical areas:
Alabama, Alaska, Arizona, Arkansas, California, Colorado, Connecticut, Delaware, District of Columbia, Florida, Georgia, Idaho, Illinois, Indiana, Iowa, Kansas, Kentucky, Louisiana, Maine, Maryland, Massachusetts, Michigan, Minnesota, Mississippi, Missouri, Montana, Nebraska, Nevada, New Hampshire, New Jersey, New Mexico, New York, North Carolina, North Dakota, Ohio, Oklahoma, Oregon, Pennsylvania, Rhode Island, South Carolina, South Dakota, Tennessee,Texas, Utah, Vermont, Virginia, Washington, Washington DC, West Virginia, Wisconsin, Wyoming, Canada, Europe, and virtually anywhere on the planet.
PristineHydro™ (https://www.youtube.com/watch?v=A4j4uHquBPs) has also been featured on The Discovery Channel Via Newswatch Tv.
PristineHydro™ delivers water filters for the home and businesses making healthy water accessible to all at cost levels and form factors. The professionals at PristineHydro™ are highly informed regarding the history of water and how these products can enhance the consumer's life.
It is no wonder so many professional athletes and health enthusiasts are turning to PristineHydro™ for their hydration needs.
For more information please visit http://www.pristinewaterfilters.com or by calling toll free (888) 240-1175