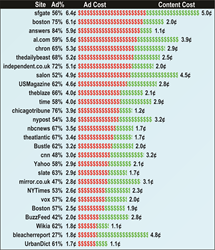 People who just want to browse the web pay more for ads they never click than for the content they have actually selected to read. -- Chris Aljoudi
Colorado Springs, Colo. (PRWEB) December 14, 2015
The engineers for Purify Ad Blocker have determined that their popular ad blocking app saves users more than 50% on data costs by blocking advertisements. Inspired by the New York Times study of October 1, Purify engineers examined over two dozen popular internet sites to measure how much users pay for the ads that typically accompany web content. The results were startling: users pay much more for ads than they do for content — more than doubling the cost of web browsing.
Purify's engineers determined that the cost to download a typical internet page averages 2.3¢ for content plus 3.1¢ for ads, for a total of 5.4¢. Medium data usage plans from the top mobile phone providers in the United States average about $10/GB of downloaded data, and costs in Europe tend to run even higher. (1) ; the content/advertising ratio stays the same for higher and lower cost plans.
If an average user visits a dozen typical websites every day for a month, the cost to the user is approximately $11.16 to see the content and another $19.44 for the privilege of downloading the advertisements. Over a year, this adds up to a single user paying over $233 to view web-based ads that were never requested.
Purify Ad Blocker for iOS 9 can completely eliminate those costs for each user who installs it. As a bonus, web pages load 4x more quickly, making them feel lightning-fast and saving users the frustrating wait time. The popular ad blocking app even reduces battery usage and increases security.
"Reports have shown that customers are paying dearly for these ads, as many websites devour data by pushing video and other invasive content within the ad," explained Chris Aljoudi, Purify's lead developer. "Purify Ad Blocker saves users money by automatically stopping these data-hungry ads from ever loading."
Apple has sold just over 300 million iPhones in the most recent six quarters (2). Multiplied by the one-third of iPhone users who use more than 1GB of data per month (3), which is about 100 million users, over 23 billion dollars is spent annually by consumers to download ads!
"It's also interesting to note that advertisers who choose a 'pay per click' billing model pay nothing for the ad that wasn't clicked," noted Aljoudi. "Yet people who just want to browse the web pay more for ads they never click than for the content they have actually selected to read."
Details of the test
In November of 2015, Purify engineers calculated the costs to download 27 of the top sites (4) based on a data plan that averaged $10/GB of downloaded data. The median site downloaded about 2.3 megabytes of data while the median overhead for ads was about 3.5 megabytes. Thus, one reasonable way to calculate the overhead is to use these two medians to combine these two figures to yield a nominal advertising overhead of 60% per page.
For these 27 sites, the percentage of download data (and hence cost) ranges from 27% to 93% of the total download. Only four sites downloaded more content than advertising (i.e., ads were less than 50% of the total), while eight downloaded more than twice as much ad content. A total of 19 of the 27 fell in the 50%-70% range for advertising as a percentage of total web page data.
To block or not to block
While some people tout the existence of a "social contract" that trades advertising for access to content, the intrusive nature of advertisements on many of today's websites costs customers much more than is widely acknowledged. The average American mobile plan charges around a penny for each megabyte of data; routinely visiting pages of an ad-heavy website can cause consumers to exceed their data plan simply by loading advertisements whose length exceeds that of the content.
"Purify's design gives users complete control over their browsing experience, allowing users to determine if they want to support a site or not," remarked Aljoudi. "Purify and other ad blockers will continue to thrive as long as consumers feel that data-hungry ads are too intrusive and degrade performance too much."
Purify is easy to customize, allowing users to whitelist any website with just a quick tap. On whitelisted websites, Purify won't filter content, enabling the user to enjoy complete control over website advertisements.
Purify features and benefits
The easy-to-install, simple-to-use app was designed to allow iPhone® and iPad® users with iOS 9 to Browse in Peace™. Purify stops advertisements and tracking from being downloaded to the user's device. Purify also includes easy, yet powerful options to block social share buttons, comments, scripts, custom fonts, and more.
Purify Blocker is currently priced at $1.99 and is available from the Apple App StoreSM. https://appsto.re/us/R-Uz9.i
About Purify
Launched on September 16, 2015, Purify is the fastest ad and tracking blocker for people using iOS 9 devices and Safari to browse the web. The highly-ranked, simple-to-use app saves iPhone and iPad users time and money by blocking intrusive advertising content and tracking. Purify's development is led by Chris Aljoudi and is based in Colorado Springs, Colo. Purify was released on September 16, 2015. Follow Purify on Twitter @purify app.
All trademarks are the property of their respective owner. ® denotes registered trademarks in the United States and other countries.
(1) http://dfmonitor.eu/downloads/2H2015_DFMonitor_fourth_release_09112015.pdf
(2) http://www.statista.com/statistics/263401/global-apple-iphone-sales-since-3rd-quarter-2007/
(3) http://www.ericsson.com/res/docs/2015/ericsson-mobility-report-june-2015.pdf
(4) List of publications tested also included the 'mobile top 10' and other popular news websites.