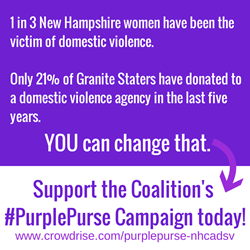 Concord, NH (PRWEB) October 01, 2014
The recent controversies involving the NFL have shifted the spotlight onto the issue of domestic violence and helped spark the greatest public dialogue we've seen in decades. The New Hampshire Coalition Against Domestic and Sexual Violence (NHCADSV) is hoping to continue that conversation throughout the state during October which is Domestic Violence Awareness Month. The Coalition is asking for the media and the public's assistance in order to help NHCADSV raise awareness and badly needed funds for the organization.
The Coalition is part of a national fundraising contest organized by the Allstate Foundation to help raise awareness about the role financial abuse can play in preventing a survivor from breaking free of abuse. In addition to raising awareness the organization that raises the most money is eligible to win $100,000. There are additional prizes for the top ten finishers, right now the Coalition is in ninth place which would mean a prize of $10,000 if we maintain our standing. In addition starting today and ending on Friday at 11:59 am the organization that receives the most individual donations wins another $10,000. The Coalition is in a position to win $20,000 by Friday, but public support is needed to reach this goal. The Coalition is competing against large organizations in larger markets with bigger donors; in order to win it will take supporters from across the state.
In New Hampshire nearly one in three women has been impacted by domestic violence at some point in their life. Only 21% of granite staters have given a donation to a domestic violence agency in the last five years. We are hoping to change that statistic one donor at a time this week but we need the media's assistance to help us go viral.
Here's how to help the Coalition maintain its lead AND win the last bonus challenge:
-- Share NHCADSV's story with your readers, interview Coalition staffers to learn more about efforts to end domestic violence in the community;
-- Share the Coalition's social media posts on twitter and facebook;
-- Sign up for email alerts to get the latest updates from the Coalition.
Supporters can visit CrowdRise.com/PurplePurse-nhcadsv (NHCADSV) to contribute.
Interviews are available with representatives from the Coalition. The New Hampshire Coalition Against Domestic and Sexual Violence (NHCADSV) is a statewide network committed to ending sexual violence, domestic violence, and stalking. Online at http://www.nhcadsv.org
CONTACT:
Maureen McDonald
Community Relations Director, NHCADSV
Work - 603.225.8893 x311
Mobile - 617-905-9675
Maureen(at)nhcadsv(dot)org