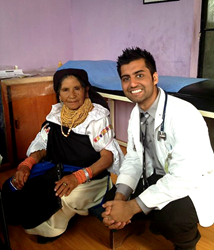 Through a CFHI program, [he] had a rare opportunity to analyze HIV among Ecuador's gay male population in Quito, then travel to the small town of Otovalo to learn from an Andean Healer and curandera or medicine woman
San Francisco, California (PRWEB) June 16, 2014
Carla Plaza is a former teen mom from Peru who graduated last June with a Bachelor of Science degree from the University of Irvine in Biochemistry and Molecular Biology.
As accomplished as she is, Plaza is determined to achieve even more. Two years ago, she joined Child Family Health International - CFHI, inspired to learn about the daunting challenge of tropical disease in Mumbai, India. "I saw the power that physicians have to make a positive difference," Plaza said. "I wanted, one day, to make others feel like that, and nothing was going to stop me."
William Gardner is a Pre-health student at Harvard who will spend eight weeks in Ecuador with CFHI's Urban & Rural Comparative Health Program.
"I grew up in Warner, Oklahoma, a very traditional, 'everybody knows your name' town in rural Oklahoma. Coming to Harvard, I became interested in the differences that result in urban vs. rural life, especially in the arena of health and medicine, and how those differences relate to public health and social justice. CFHI will allow me to examine and experience these differences and their implications on an international, global health scale."
Keshav Khanijow is a fourth-year medical student at the University of California, San Francisco, School of Medicine. Through a CFHI program, Khanijow had a rare opportunity to analyze the spread of HIV among Ecuador's gay male population in the capital of Quito. He then traveled to the small town of Otovalo to learn from an Andean Healer and a curandera, or medicine woman, in a clinic combining traditional practices with western medicine to treat its patients.
Plaza, Gardner, and Khanijow are just three of more than eight-thousand health professions students who, since 1992, have sojourned abroad on one of CFHI's 20+ programs with the ambition of broadening their perspectives on global health and working in community-based partnerships.
Beginning this month and throughout the summer, a new class of hundreds of pre-med, nursing, medical, physician assistant, public health, and other students will travel to Argentina; Bolivia; Ecuador; India; Mexico; South Africa and Uganda to learn alongside regional health experts, working as agents of change in underserved communities.
What makes CFHI unique is that 50 percent of each student's program fee is reinvested into their host communities, funding local health projects.
"Every day, I'm inspired witnessing the profound impact our Global Health Education Programs are having on communities around the world," said Evaleen Jones, M.D. and Executive Director of CFHI. "In the Ecuadorian Amazon, we funded and implemented a system to track Type 2 diabetes patients living in remote communities. In India, we trained women in the areas of maternal and child health. In South Africa, we transformed a dilapidated building into a fully functioning heath clinic."
"Since 1992. CFHI has sent dedicated students from the West to better understand poverty, healthcare systems and their role as future health care professionals by embedding them with local physicians and health workers in underserved communities throughout the world," Jones said. "We are truly grateful to our students and our generous donors for their continued support of our global health initiatives."
# # #
Child Family Health International - CFHI provides transformative global health experiences and community empowerment in underserved communities around the world. Since 1992 CFHI has grown, now offering over 20 Global Health Education Programs and funding community health projects in Latin America, Africa, and India. More than 8,000 students have participated in CFHI programs alongside local health practitioners. CFHI is an NGO recognized by the United Nations and a Better Business Bureau accredited charity.